The JBL Endurance Peak 2 is specifically designed for athletes and gym bros who need that extra grip around the ears. I got them specifically for that round-the-ear loop.
However, they are not very intuitive when it comes to pairing them with your phone. I consider myself a 'tech-aware' person, but it took me some time to figure out how to pair them for the first time as well.
If you are also struggling with your JBL Endurance Peak 2 not pairing, I will explain how to pair them correctly and what to do when they are not pairing.
How to pair JBL Endurance Peak 2?
JBL, as a brand, is not the best communicator of their own products. Their instructions are unclear and often confuse people with little tech experience.
When I first got my Endurance Peak 2, I straight up went to the manual to look up the pairing process. I went through the steps and ended up unsuccessful.
It took me a few more tries and a bit of figuring out to pair them successfully. So if you are stuck like me, here is a sure way to pair your JBL Endurance Peak 2.
First, you need to understand a very important thing; the earbuds turn on and enter pairing mode when you take them out of the case and detach the end of the magnetic ear hooks from the earbud.
Consider these magnetic ear hook ends to be the on & off button as you will use the same to turn off your JBL earbuds when not in use.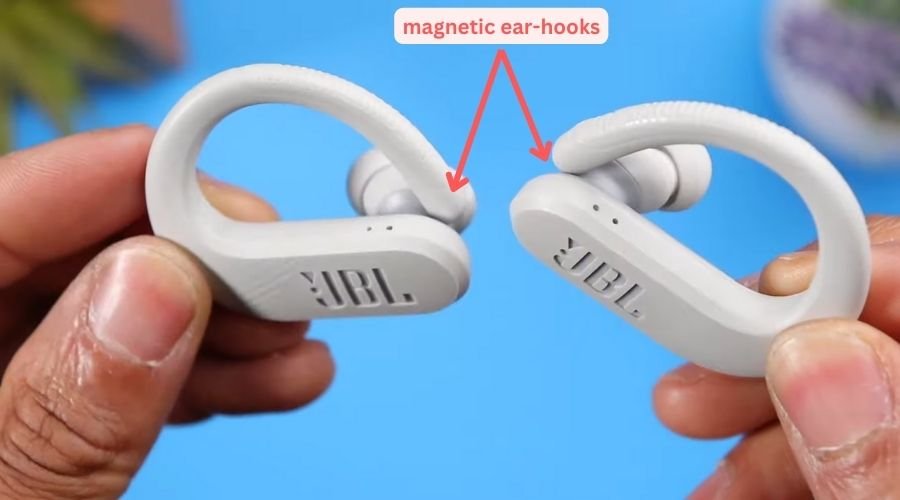 After entering pairing mode, they will sync first with each other and then to your phone.
But if you turn on one earbud before the other, you will disrupt the sync process and end up with only one earbud working.
Here is the correct process to make sure you end up pairing successfully.
Remove the earbuds from the case, but don't disconnect the magnetic ear hooks.
Now, turn both earbuds on by detaching the magnetic ends of the ear hooks simultaneously. This is important. Otherwise, it won't work.
Both earbuds will start blinking blue, indicating that they are trying to sync (pair) to each other (step 1)
Once they sync with each other, the blue blinking will stop, and only the left earbud will start blinking red & blue, indicating that the earbuds are ready to pair to your phone.
Turn on your phone and look for "JBL ENDURANCE PEAK II". Tap to connect.
Here is an important caveat; When you turn on your phone's Bluetooth, you will see Three (03) Bluetooth devices. Two of them be "JBL ENDURANCE PEAK II-LE" and one will be without the -LE at the end.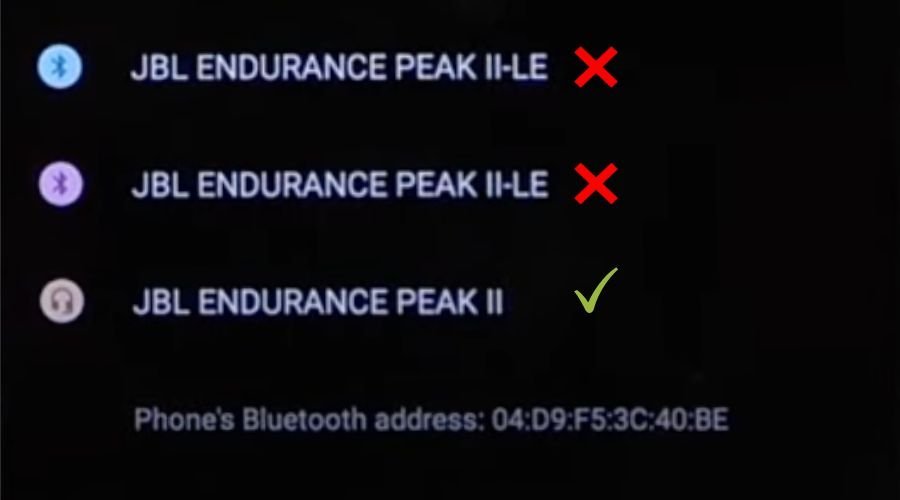 That's not a malfunction but a by-product of a feature JBL has implemented i-e the mono mode. You can use either of the earbuds alone in mono mode for calls.
The 2 Bluetooth signals with the -LE at the end are from individual earbuds, and the signal without the -LE at the end is from the combined/synced earbuds.
Select the one without the -LE at the end; otherwise, you will end up with your earbuds working in mono mode.
If only one of your earbuds, either the left or right one, is working, that means you have paired only one earbud. Unpair it and go through the correct pairing process described above.
JBL Endurance Peak 2 not pairing
If you follow the correct pairing process, you will be able to connect your JBL earbuds without any issues. But sometimes, the process doesn't go as smoothly.
If your JBL Endurance Peak 2 is not pairing with your phone despite trying multiple times, there is some issue. The below troubleshooting steps will help you resolve the issue.
Turn OFF/ON Phone Bluetooth
Most Bluetooth-related issues are solved with a simple turn OFF/ON routine. This restarts the Bluetooth services on your phone and removes any temporary bug that might be preventing the connection.
Go to your phone settings > Bluetooth and turn the toggle OFF. Wait for 10 seconds, and then turn it ON again. Now try pairing your JBL earbuds again.
Another important thing to note; make sure your Bluetooth is not connected to any other device when you are trying to pair your JBL earbuds.
Although turning the Bluetooth OFF/ON will sever the connection but still have a look. If you see any other device connected, turn that *device* Bluetooth off.
Reset the JBL Earbuds
Resetting your earbuds is the next step you should try if simply turning OFF and ON the phone Bluetooth doesn't work for you. A simple reset can solve quite a few software issues.
This is where you will find the JBL official manual a bit confusing, as it doesn't explain the reset process well.
Here's a detailed step-by-step process to reset your JBL Endurance Peak 2 earbuds:
Step 1: Place both over-ear earbuds into the charging case and make sure they are charging.
Step 2: Close the charging case and wait for a few seconds.
Step 3: Open the case, ensuring that the earbuds are seated properly inside.
Step 4: Place your finger on the touch control area on both earbuds and hold for 20 seconds. This is an important step, as it will initiate the reset process.
Step 5: After approximately 8 seconds, you should observe a white/blue flashing light on the earbuds. Do not release the touch control area yet. Continue holding your fingers on the touch control areas.
Step 6: Keep holding until the red light flashes rapidly on both earbuds, indicating that the reset process has been successful. It's possible that only one side may show the red flashing light but continue to the next step regardless.
Step 7: Remove the earbuds from the case and put them on. Wait for the connection to occur between the earbuds and your device. If only one side had shown the red flashing light in the previous step, still try this step, as the connection may still occur.
After following these steps, your JBL Endurance Peak 2 earbuds should be reset and ready to pair with your device.
Now, follow the correct pairing process I described above to pair them to your phone.
Tap the JBL logo 3 times
This is another trick I found while researching my issue, and it is one of those things JBL left out of their manual for some reason.
As I explained in the start of this article, your earbuds have to sync/pair with each other first before you can pair them with your phone. Otherwise, the pairing will either fail or only one earbud will connect.
So try these steps below:
Put both earbuds in your case, close the lid, and wait for a few seconds.
Take both earbuds out, turn them on, and put them in your ear.
Now, tap the JBL logo (button) on both earbuds simultaneously 3 times, and you will hear the "Bluetooth connected" tone.
This little trick has worked for countless users in online forums, and if all the above methods fail, give this a try.
Update the firmware
If all the above fails, that means you either have a software issue with your JBL Endurance Peak 2 earbuds or a hardware one.
Software issues are easy to get rid of. All you have to do is update your firmware, and you will refresh your earbuds and resolve most software related issues.
To update your JBL earbuds, you have to download the official JBL companion app from App Store or Google Play Store.
Once installed, follow the below process to update your earbuds firmware:
Launch the JBL Headphones application.
Locate the specific JBL earbuds you wish to update and select them.
View the details about your JBL earbuds. If an update is available, an orange indicator will be visible. Click on it.
Press the 'Install' button to initiate the update.
Patiently wait for the 'Restart' message to appear. Once the update is completed, the information screen of your JBL earbuds will be displayed.
If the Bluetooth connectivity issue was caused by a software malfunction, it should now be resolved.
Contact JBL Support
If you have tried all the troubleshooting methods and your JBL earbuds are still not charging, it may be time to reach out to JBL support for help.
Chances are that it is a hardware issue and your earbuds might need a repair or replacement.
JBL provides a dedicated support team trained to help you resolve any issues you may have with your earbuds. Whether you need help with a technical issue or have a general question about any product, JBL's support team will help you out.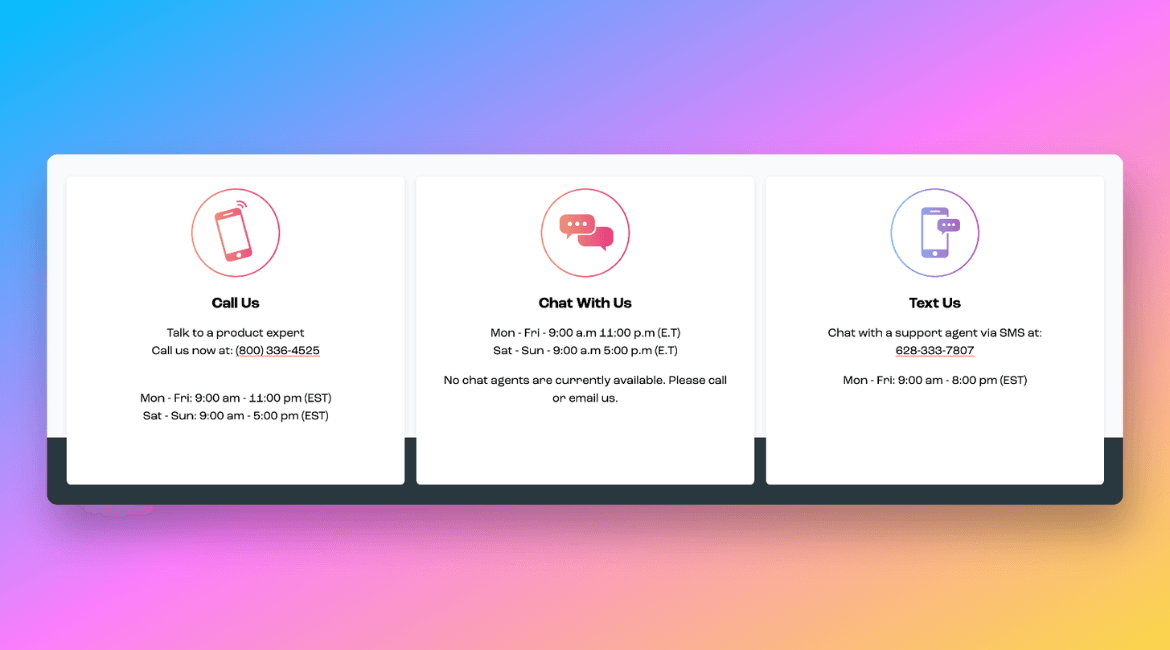 You can reach JBL support through their website, phone, or email. You can find the contact details below:
Call JBL:
Talk to a product expert at (800) 336-4525
Available hours: Mon – Fri: 9:00 am – 11:00 pm (EST) and Sat – Sun: 9:00 am – 5:00 pm (EST)
Chat With JBL:
Chat with the JBL support team on this link
Available hours: Mon – Fri – 9:00 a.m 11:00 p.m (E.T) and Sat-Sun – 9:00 a.m 5:00 p.m (E.T)
Text JBL:
Chat with a support agent via SMS at: 628-333-7807
Available hours: Mon – Fri: 9:00 am – 8:00 pm (EST)
JBL Endurance Peak 2 not charging – Summary
In this article, we explained everything related to the pairing of your Endurance Peak 2 earbuds.
Additionally, it's crucial to keep the earbuds' firmware updated, as JBL may release patches to improve performance or fix any known issues.
When using your JBL Endurance Peak 2 earbuds, make sure that they are within the recommended Bluetooth range, typically around 33 feet (10 meters), to maintain a stable connection.
Obstacles like walls, furniture, or other electronic devices can interfere with the Bluetooth signal, so keeping your phone and earbuds within line of sight is best.
Lastly, it's a good idea to familiarize yourself with the earbuds' touch controls and features, such as adjusting volume, skipping tracks, or activating the voice assistant.
This will help you make the most of your JBL Endurance Peak 2 earbuds and enhance your overall listening experience.