If you are currently stuck with a JBL Live 650 headphones that won't turn off, a quick reset will solve the issue. Here is how to reset your JBL Live 650.
Factory reset your JBL Live 650 by pressing and holding down the Volume+ and Volume- button simultaneously for 10 seconds. Your headphones will restart and the issue will be resolved.
Resetting your headphones will remove all your settings and paired device and you will have to pair them again.
However, if the reset doesn't solve your problem, we are going to troubleshoot the problem in more detail.
JBL Live 650 BTNC won't turn off – Troubleshooting
JBL headphones are usually very reliable and sturdy and won't malfunction but the software can be glitchy sometimes.
The below troubleshooting steps can help you narrow down the issue and probably solve it without having to talk to the customer support.
1. Try factory reset hack
This is a little different than a simple factor reset we tried above. I found this solution in an online forum discussion and it was really interesting.
Due to a software glitch, your JBL headphones are not turning off and the glitch often won't go away with a standard reset. So, try the below sequence.
Factory reset your JBL heaphone by pressing the Volume + and Volume – key together for 10 seconds.
The headphones will reset, restart and will try to pair. You will blue light near the power button.
While the headphones are in pairing mode, plug the headphones into your laptop or PC USB port.
Try turning off the headphones after this.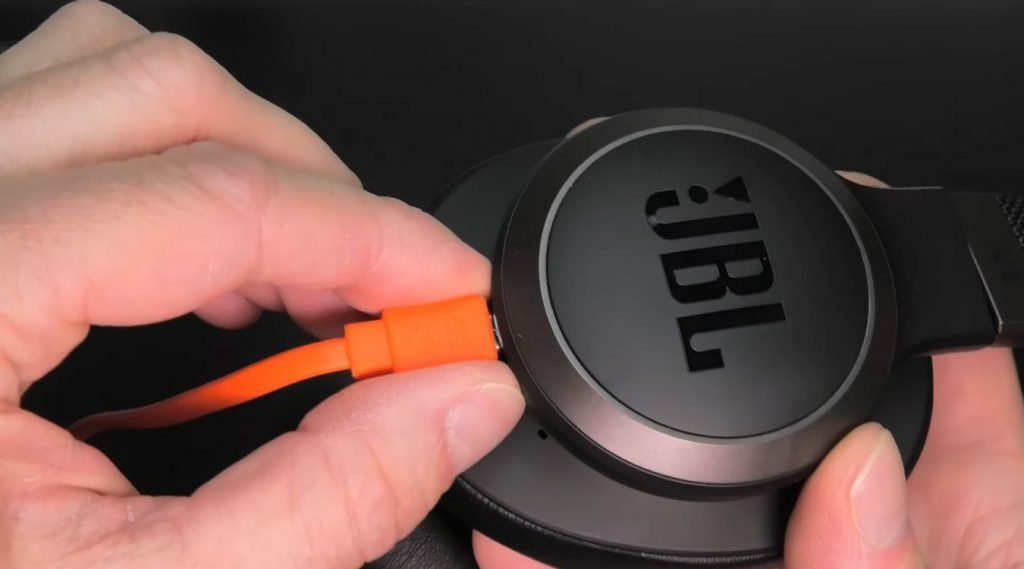 This strange but effective hack has saved a lot of users from throwing away their headphones.
2. Update JBL firmware
Keeping your JBL headphones firmware will make sure you always have the latest available and bug free software installed on your headphone.
JBL delivers software fixes and repair glitches via regular firmware updates. Updating your firmware is quite easy. Follow the below process.
Download My JBL Headphones App on your iPhone or Android. It is available for both.
Once installed, go through the setup process to register your headphones with the App.
After that, you will be able to see your headphones model on the App screen.
If an update is available for your headphones, you will see an orange download arrow on top of the headphone image (see image below)
Click on that and your headphones will be updated to the latest firmware.
Once your headphones are updated, try turning them off and see if the problem is gone.
If an factory reset and firmware update didn't fix your headphones issue, perhaps the problem is with the hardware button.
When you slide the power OFF button, you should see the LED light turn on then off. That's the normal off routine.
Is the slider button sliding normally or do you feel it is stuck or behaving rough? Maybe there dust particles underneath it that won't allow it to fully press.
Try cleaning the button with a soft brush and see if that solves the issue.
If you are a DIY person, you can open up the headphone cover and see if you can find any hardware damage beneath the button like broken wires or soldering connections.
Contact JBL customer support
If you tried every troubleshooting step above and your problem isn't resolved, then the problem is likely to be a hardware malfunction.
However, the thing about hardware malfunctions is that you can't resolve them yourself. You need to contact the manufacturer and ask for a solution.
So if your JBL headphones are still under warranty, you need to contact JBL customer support via phone or text message and ask them for a repair or replacement.
JBL offers great customer care. You can contact them at the below numbers:
Call: +33 178429982
Monday – Friday: 09:00-18:00
Saturday – Sunday: 10:00-16:00
JBL Live 600 BTNC not turning off – summary
JBL headphones are not free of bugs and malfunctions. Users frequently complain about software bugs like bluetooth turning off on their on and the headphones refusing to turn off when the slider button is pressed.
The troubleshooting can be as simple as a quick reset. This can remove any bugs in the software temporarily.
But for a permanent fix, you will have to update the firmware. If no firmware is available, you will have to wait for it.
The not turning off issue can also be hardware related but that's very rare and seldom happens. However, just to be sure, you can contact JBL customer service to let them have a look.