Skullcandy earbuds are great until one of them stops working. Depending on your luck, it can either be the left or the right earbud.
But here is the good news. In most cases, it's not a permanent malfunction but a software glitch that Skullcandy has been unable to fix for years.
I am a diehard user of Skullcandy. In fact, I prefer them to my more expensive AirPods due to their superior bass. But I have also faced this right/left earbud not working issue a few times.
Luckily, the fix is quite easy. If your right or left Skullcandy earbud stops working, just power cycle them and re-pair them to your phone. This is a quick & effective fix that works most of the time.
In this article, I will explain the step-by-step method to solve this Skullcandy right or left earbud not working issue.
This guide applies to all Skullcandy earbuds models, including Indy, Dime, Grind, Push, Sesh, Sesh Evo, Mod, Jib True 2, and Inke'd.
In the 2nd part of the article, I will also discuss some other common issues that might cause one side of your Skullcandy earbuds not to work, stop charging or not turn on at all.
Skullcandy one earbud not working? – Reason
As I said, it's quite common for one Skullcandy earbud to stop working, and it's not a hardware issue.
Usually, users have complained about their Skullcandy right earbud not working but this is common with the left earbud as well.
It is a bad software implementation of mono mode feature. Mono mode allows users to pair each earbud separately to the phone and use it alone.
While the mono mode is useful in certain situations, it sometimes pushes one earbud out of pairing and stops getting any audio.
When this happens, only one earbud (left or right) will be connected to your phone, and the other will act like it's not working.
I accidentally discovered this reason when my Indys stopped working as a pair, and I dived deep into user forums, desperate to find a solution.
Since it's a software issue, the reason and its solution is common for all Skullcandy earbud models.
You can use the same solution below as well if your Skullcandy left earbud not working instead of the right one.
Solution
To fix the issue created by mono mode in the Skullcandy earbuds, follow these steps:
Unpair the earbuds from your phone by removing them from the Bluetooth list and turn off your phone's Bluetooth.
Power off both earbuds by pressing and holding each one for 6 seconds until the LED light turns red and shuts off.
Reset the earbuds by pressing and holding the controls simultaneously for 10 seconds. You will hear the earbuds say, "power on > pairing > power off > power on" Release the button when you hear the second "power on" message.
Put the earbuds in the charging case, wait a few seconds, and then take them out together. The blue LED lights will flash until they pair and sync together.
Pair the earbuds with your phone by turning on your Bluetooth and finding your Skullcandy model in the discovered devices list.
Approve the pairing request twice during the process. Once paired, you might see two Skullcandy devices in the paired Bluetooth devices list, both showing "Connected."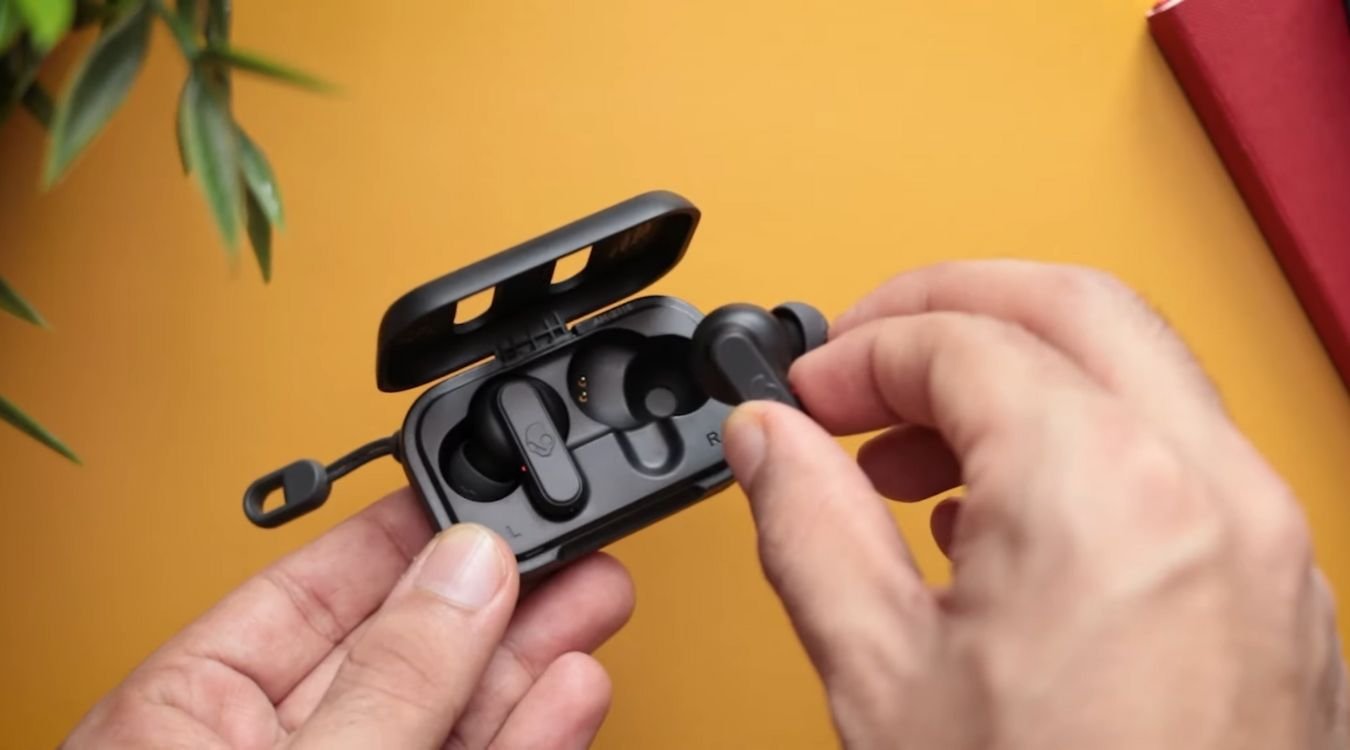 If your Skullcandy earbuds one side was not working due to a software glitch caused by mono mode, the reset and re-pairing process should get both earbuds working as usual.
However, there might also be other reasons for your Skullcandy earbuds one side not to work. Let's discuss these additional reasons below.
Skullcandy one side is not charging
This is another frequent issue with Skullcandy earbuds. All of a sudden, one earbud will stop charging.
I have written a detailed guide about fixing Skullcandy charging issue, but here are the main things you can try before throwing in the towel and getting new earbuds.
1. Clean the charging base
One of the main causes of one earbud to stop charging suddenly is debris preventing adequate contact between the charging pins on the earbud and the charging base inside the case.
Your earbuds can get dirty at times due to earwax and other reasons.
If it builds up a layer of particles or wax on the charging pins, your earbud will stop charging.
To fix this, take a clean and soft cloth, dampen it with isopropyl alcohol or water and carefully but thoroughly clean the charging pins on both the earbuds and the charging case.
2. Reset the earbuds
Resetting your earbuds will remove any software glitch that might cause your left or right earbud to stop charging.
This might sound like generic advice but I have fixed so many earbuds with this simple trick. My latest fix was when my Skullcandy Sesh Evo left earbud not working, and a reset did the trick.
Follow the below steps to learn how to reset Skullcandy wireless earbuds.
First, go to your phone's Bluetooth setting and unpair your Skullcandy earbuds.
Take out your earbuds from the charging case, and let them turn on.
Now, press the button on either earbud twice and press hold for 2 seconds. So, press–release–press–release and press-hold for 2 seconds.
Your earbuds will blink blue and will enter the reset process.
Once reset, put your earbuds in the charging case and see if both of them are now charging properly.
3. Balance the charge
Since both your earbuds can work in mono mode independently, they sometimes develop a serious charge unbalance.
If one earbud has a full charge and the other is low on charge, the unbalance in charge level will stop the case from charging one or both of them.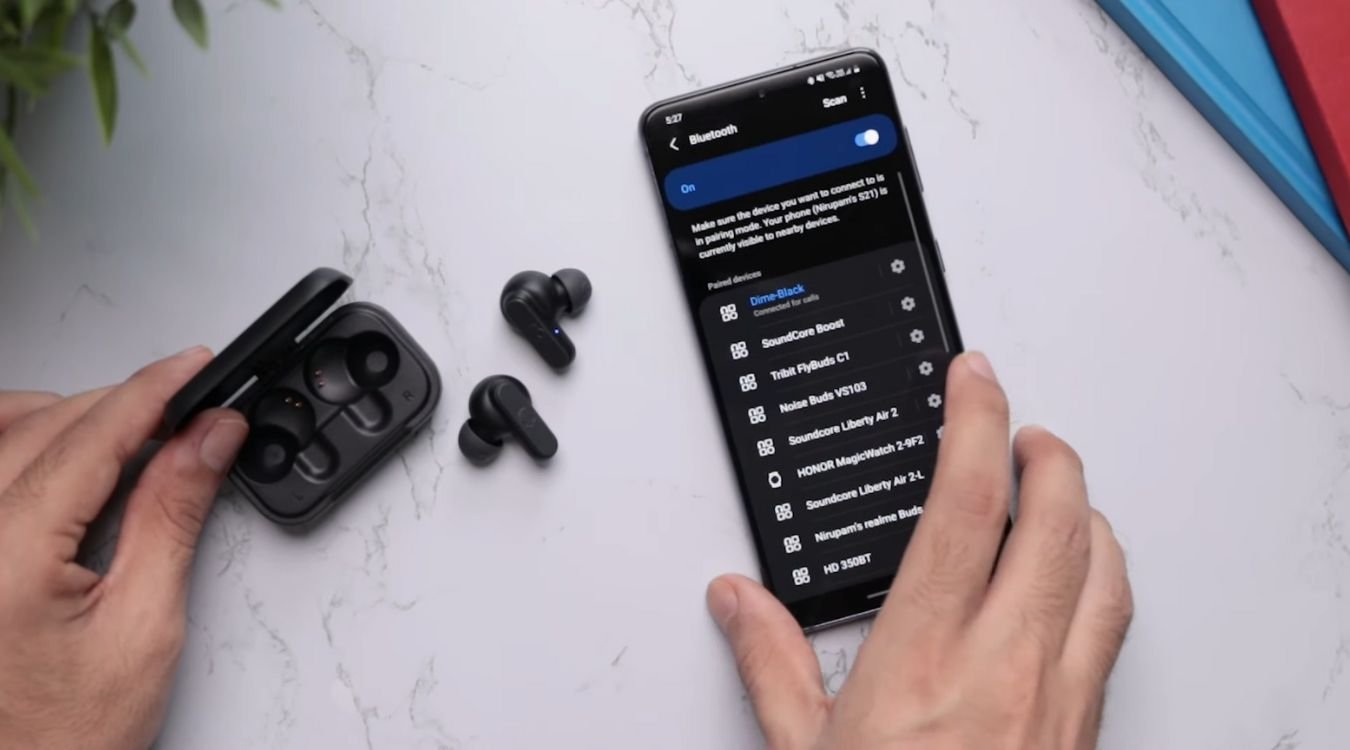 To fix this, you must drain both earbuds completely and then charge them up together.
To do this, take out your earbuds from the case and leave them on your table overnight.
They will try finding your phone Bluetooth and, in the process, will keep losing charge till both earbuds are at zero charge level.
Now you can put them back into the case, and they will start charging properly.
Skullcandy one side is not turning on
Sometimes, the one side earbud won't turn ON. You won't see any light or hear any audio from it.
There can be a few reasons behind this that you can check.
1. Check the charge
If you have been using the malfunctioning earbud in mono mode, chances are that it is low on charge while the other earbud is still full.
This imbalance will cause the earbud to not turn on and not charge (as discussed above).
To fix this, drain both earbuds fully and then put them on charge overnight.
2. Check for water damage
If your earbud has recently been in water accident, it might be water damaged. In such a case, turn off your earbud and keep it in a well-ventilated area to remove ingressed water.
It is important not to turn on the earbud while it is still wet.
Once you are sure the water has evaporated and it is fully dry, you can try turning it on and see if it works.
If it doesn't, that means the circuitry has fried due to ions in water and will need a hardware repair or replacement.
3. Check for physical damage
Physical damage can also cause your Skullcandy earbud to not work.
If you have dropped your earbuds (or stepped on it like I once did in the gym), chances are that something inside has broken.
If you try all the things above and none has worked so far, the last thing you can do is open your malfunctioning earbud and see the internal circuitry.
When you open your earbud, you will see three different components inside. The battery, the speaker & mic system, and the control circuit.
There might be small wires going between these components that you can check for any damage.
If you see any broken ends or damaged components, that is the cause of your malfunction.
Repairing such damage depends on the level of damage and your expertise as a DIY person.
If you don't know much about electronics repair, you can get help from a professional repair shop to fix them.
In a last-ditch effort, you can also contact Skullcandy support to see if they can repair/replace them for you.
Skullcandy one side won't respond to touch control
This is another recurring issue with Skullcandy earbuds. You might find one of the earbuds not responding to touch control.
This can either be a software glitch or a hardware problem. Here is what you can do to check and fix this.
First, make sure the control surface is clean, and there is no wax or other contamination on the surface. Contamination reduces the sensitivity of the touch surface and causes malfunction.
If you are getting audio from the earbud or it is paired to your phone, but just the control surface is not responding, a quick turn-off and reset will fix the issue.
If a reset is still unable to solve the issue, it might be a hardware issue. See the above section for the repair guide.
Contact Skullcandy Support
If you have tried all the mentioned tricks and the issue persists, you can go for the Skullcandy warranty claim.
As the Skullcandy earbuds come with a 1-year warranty, the unit can be replaced if it has a manufacturing issue.
The easiest way to contact Skullcandy is to fill out a contact form on their website [direct link].
Include as much detail about your issue as possible and upload supporting images or videos explaining the problem.
If you are looking for great alternatives to your Skullcandy earbuds, here are 5 top recommendations from someone who values exceptional sound quality.