You are probably shadowbanned if you are experiencing a sudden decrease in engagement on your Instagram posts and stories. Although there is no official confirmation of shadowbanning, users have long experienced it.
When you are shadowbanned, you experience decreased reach and engagement on your posts. You don't get as many likes and views on your posts, stories, and reels.
The good news is that Instagram shadowbanning is not permanent, and there are many things you can do to get unshadowbanned on Instagram.
We have put together a comprehensive guide explaining how to get unshadowbanned on Instagram. Keep on reading to explore these solutions in detail.
Method #1: Don't Use Instagram For a Few Days
The first thing that will do wonders to get unshadowbanned on Instagram is to stop using the app for a few days. I am saying this with experience, as this is what worked for me when I was shadowbanned on Instagram the last time.
All you have to do is to go cold turkey. Don't open the app for some days(it usually takes 3 days to get your app back to the normal state, but the time varies from one person to the other).
Quitting Instagram for a few days will almost act like a reset button for your Instagram account, and you will be able to get all your engagement back on the app.
Another reason why you could be shadowbanned on Instagram is the use of wrong hashtags or hashtags that are banned on the app. If that's the case with you, removing all these hashtags from your posts is best.
When it comes to hashtags on Instagram, the app has a strict policy. If you have been using Instagram for a while now, you must be aware of banned and blocked hashtags. It's pretty standard on the app, as they keep banning hashtags for several reasons.
For instance, a hashtag could get banned if it's offensive. Additionally, the hashtags you have used on your recent posts might not be banned or blocked, but there could have been a lot of inappropriate pictures shared using that.
Whatever the reason, if you feel that hashtags could cause your account to get shadowbanned, it's best to delete them from your recent posts.
Make a guess about when you started experiencing the glitch, and remove hashtags from all the pictures or videos you posted on Instagram after that.
This is another method that has likely worked for many Instagram users. Though we will explain it further ahead if you use it, don't forget to share your experience with it.
For this method to work, you must put your hashtags in captions instead of comments.
As per statistics, many users had reported that when they used hashtags in the comments section on Instagram, their accounts got shadowbanned within the next 2 to 3 hours.
Though using hashtags in the captions is the solution here, it might make your captions look too crowded. Don't worry; we have solutions for that too.
To use hashtags in your captions while keeping them tidy, you can use bullet points or full stops (5 or more) to separate the actual caption, including Instagram acronyms, from the hashtags.
Here is an example for your reference:
Enjoying the heat in the pool!!!
.
.
.
.
.
#enjoying #day #sun #outdoors #heat #poolday
Though hashtags are a great way to increase your reach on Instagram, and they can make your posts gain more eyeballs, it's risky to use too many hashtags on your posts.
I personally use all 30 hashtags under my posts, but I have seen a lot of users saying that using fewer hashtags for a while has helped them unshadowban their Instagram account.
So, if nothing works out for you, you should try using minimum hashtags for a while and see how things turn on.
You can also keep the hashtags as relevant and meaningful as possible, so the reach you were getting before comes back to you.
Method #5: Follow All Instagram Rules and Guidelines
One reason you could be facing shadowbanning on the app is that you have intentionally or unintentionally posted something on Instagram, in private chat or in group chats that's against the rules and guidelines of the app.
In such cases, you can easily get unshadowbanned by sticking to the app's guidelines for the next few days.
Though it's recommended to always abide by the apps' rules if you don't want to get into a problem, in case of shadowbanning, you ought to be extra careful.
Another thing you can do in this regard is to remove or hide all the posts that you think could be offensive to others.
Method #6: Unlink Third-Party Apps
If you have been using third-party apps that automatically like your posts, make comments, and share the content you post on your Instagram account, you will get your account shadowbanned sooner or later.
To get unshadowbanned in such cases, you need to unlink these apps from your account. Here is how you can do this:
1- On your Instagram account, tap the "Profile" icon at the bottom and select the "three-line" icon at the top-right corner.
2- Choose "Settings."
3- Go to "Security."
4- Select "Apps and Websites."
5- Head to the "Active" option and select "Remove" next to all the apps linked to your account.
To be on the safe side, get rid of even the apps you trust, and don't link them until you get unshadowbanned.
Method #7: Report the Problem
Another thing you can try to get unshadowbanned on Instagram is to contact Instagram Support and report the problem. Although it's not easy to get in touch with the support people, there is no harm in trying it out once.
To contact Instagram to report your problem, here are the four ways you can use:
Way #1: Shaking the Phone
The first method you can use to reach out to Instagram support people is by shaking your phone. This method is pretty simple as all you need to do is:
Open the Instagram app on your phone.
Shake your phone to activate the "Instagram Rage Shake" feature.
Once you get in touch with the support people, report your issue.
Note: This method doesn't work on all phone models.
Way #2: Using the App
This is one of the most straightforward methods for reporting your problem on Instagram.
To do this;
1- Go to the Instagram app on your phone.
2- Select the "three-line" icon at the top and go to "Settings."
3- Head to "Help."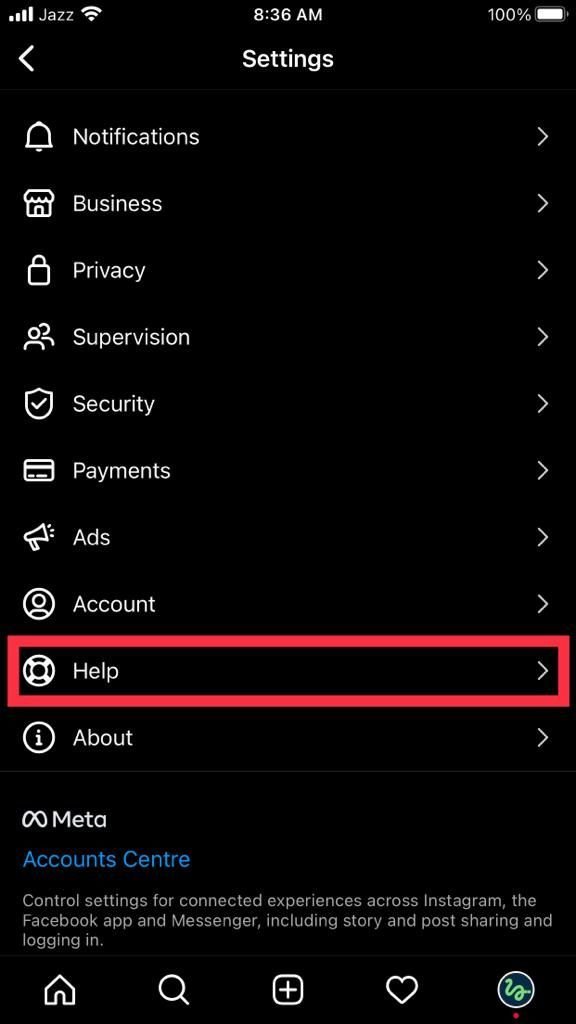 4- Choose "Report a Problem."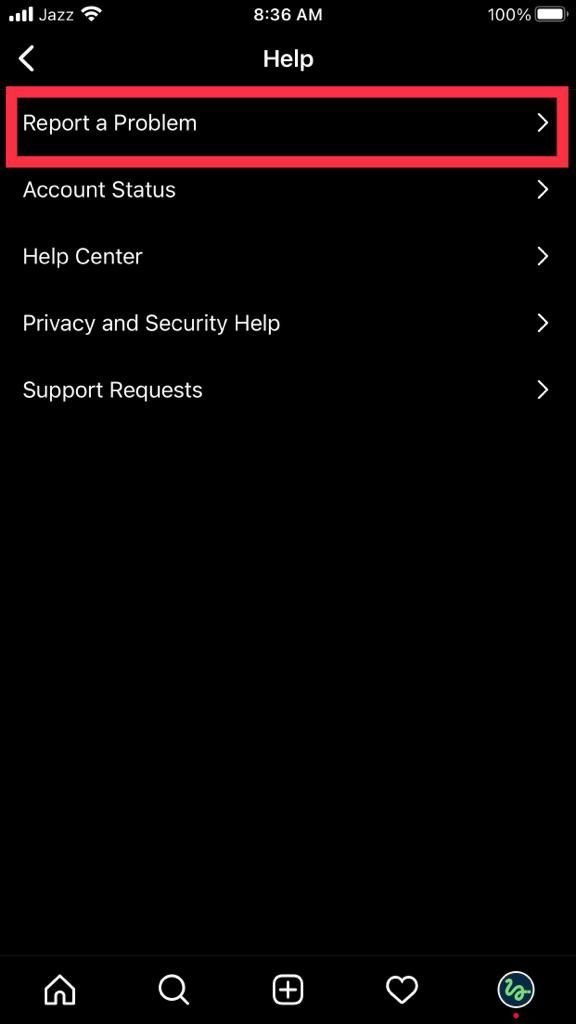 5- Go with the "Something isn't working" option and report your problem.
Many Instagram users were reportedly able to get their accounts unshadowbanned through this method.
Way #3: Using Facebook
You can also report your problem to the Instagram Support page by contacting them on Messenger.
For this;
Open Facebook on your phone.
Use the search bar to search for Instagram (app page).
Tap "Send a Message," type the problem you are facing and send.
Way #4: Sending an Email
You can even email the support people on Instagram and tell them about the shadowbanning. The email id is support@instagram.com. You need to be careful while emailing them not to use the word "shadowbanned" as this is not real.
Method #8: Switch to Personal Account
If you have a creator or business Instagram account that keeps getting shadowbanned no matter how careful you are, you can switch to a personal account.
Though this might seem too much, as you will have to let go of your insights too, this has worked for many users. If you have no option left, this will work for you. The best part is that you can switch back to a Creator account anytime.
For switching to a personal account, here are the steps to follow:
1- Select the "three-line" or "Menu" icon at the top-right corner of your profile.
2- Go to "Settings."
3- Navigate to "Account" > "Switch account type."
4- Tap "Switch to Personal Account."
Conclusion – How To Get Unshadowbanned On Instagram?
We have tried to cover all the solutions that will help you get unsahdowbanned on Instagram. The best part is that most of these fixes are backed by users' claims.
To sum up, here are the fixes for you to get unshadowbanned on Instagram:
Don't open the app for a few days.
Remove the banned hashtags or all the hashtags from your recent posts.
Stick to Instagram Guidelines and Rules
Stop posting offensive content.
Unlink your account from third-party apps
Switch to a Personal Account (If you have a professional account)
Use hashtags only in captions and not in comments.
Report a Problem
Limit the use of hashtags on your posts (don't use more than 30 hashtags)
Stop posting frequently
Hopefully, one of these methods will work for you, and you will be able to see your Instagram account back in its full glory all over again.