Instagram group chats are useful for group communication, but they also allow spammers to get into your inbox without consent.
I have been experiencing lately that people are adding me to all these crypto or other spam groups, and it's very annoying.
If you are a victim of this spam behavior or simply want to leave a group chat that you are no longer interested in, read this article to learn how to leave an Instagram group chat.
I will also discuss some additional things, such as muting group chat notifications and preventing others from adding you to different group chats, along with other things you might be interested in. 
How To Leave An Instagram Group Chat?
Instagram, as an app, is not too complicated, and fortunately, most of the things on this application require a few simple steps.
Here are the steps you need to take to leave an Instagram group chat: 
1-Go to the DM section 
Open the Insta app, tap the "Home" icon at the bottom to head to the Homepage. On the Homepage, you will find a "messaging" icon at the top right corner. 
Select the "messaging" icon in the DM or direct message section.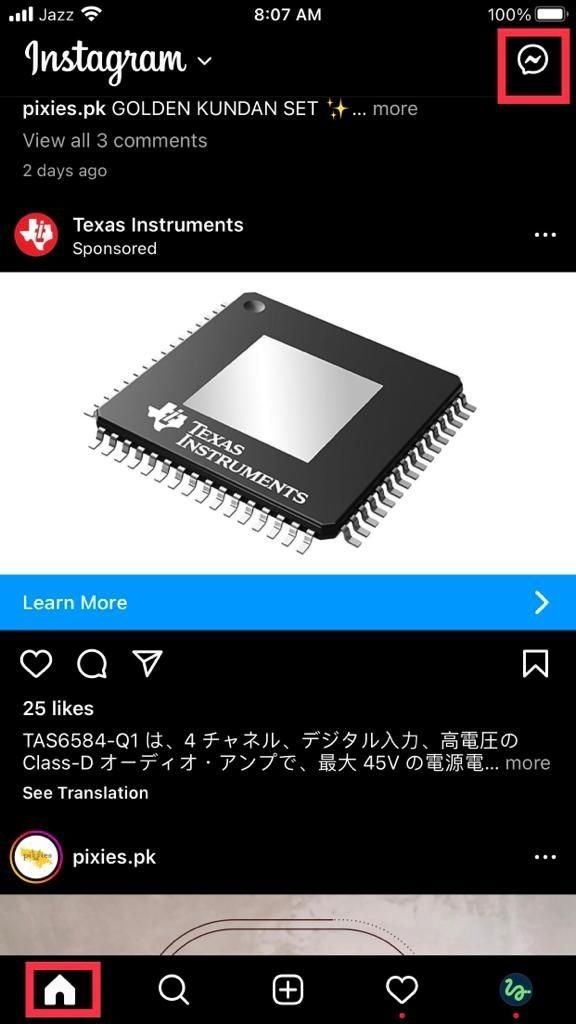 2-Locate the group chat 
For the next step, you need to find the group chat you wish to leave. Usually, with so many chats on the conversation board, it takes time to locate the one you want.
But don't worry; you can use the search bar at the top to find the chat you want to leave.
3-Go to the Details page 
When you find the desired group chat, tap the icon at the upper right corner to go to the details page. You can also tap the "Group's name" at the top for the same.
4- Select "Leave Chat." 
Scroll down on the Details page until you find the "Leave Chat" option. For ease of access, it appears in red.
Tap "Leave Chat" to get yourself out of the group chat.
A message saying, "You can no longer send messages in this group," will appear on the screen, denoting that you have successfully left the group chat.
How to Mute Instagram Group Chat?
Sometimes, leaving a group chat might be a little too much, especially if you are a part of a friend's group.
In such scenarios, you can mute the group chats to prevent the irritating notifications from repeatedly appearing on your phone. 
Here is how you can mute an Instagram group chat: 
1- Open Direct Messages 
Select the "Home" icon at the bottom to go to the Homepage. There, select the "DM" icon at the upper right corner. You will be directed to the Direct Messages tab. 
All your Instagram chats and groups will appear on the Direct Messages page.
2-Go to Group Chat 
Find the group chat you want to mute on your Instagram. Tap to go to the desired Instagram group chat.
3-Head to Notifications 
Go to the Notifications section in your group chat. Find the Mute messages option and tap the toggle.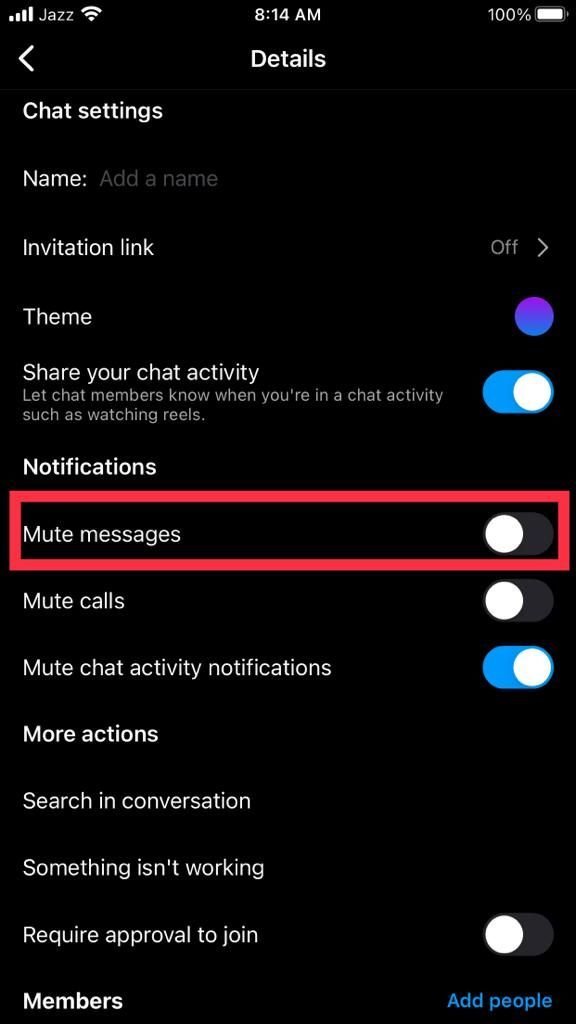 The selected group chat will successfully be muted. It means that you will no longer receive notifications from it.
One thing you need to remember here is that, though muting the Instagram group chat saves you from all the notifications appearing on your phone from time to time, you will still be notified every time a group member mentions you in the group. 
Similarly, muting the group chats doesn't prevent group Instagram calls from reaching you. 
The good news is that you can even mute call notifications and mentions on group chats using these steps.
Go to the Notifications section on the group chat.
Tap the toggle for "Mute chat activity notifications" and "Mute calls."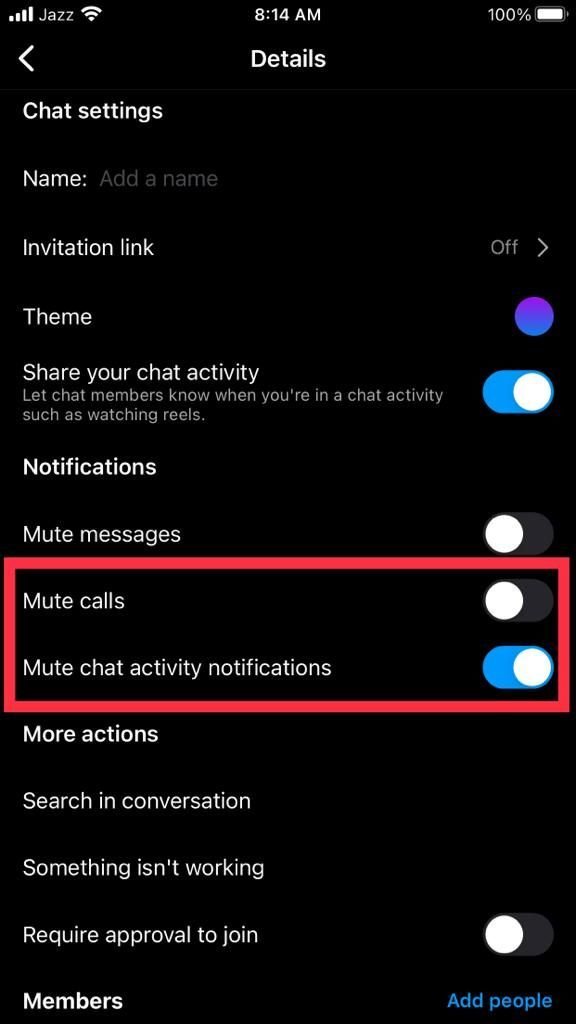 You will no longer receive any notifications from the Instagram group chat.
How to Prevent Others From Adding You to Group Chats? 
Although leaving Instagram group chats or muting notifications is an efficient way of keeping yourself away from all the unnecessary groups you don't want to be a part of, this can be too big of a hassle sometimes.
If you don't want to go through the hassle of leaving group chats every time some unknown user makes you a part of it and muting the groups isn't a solution for you either, here is a simple method for you to prevent others from adding you to these random group chats.
Follow these steps to restrict Instagram users from making you a participant in their group chats: 
1- Select the Profile icon 
Open the Instagram app and find and tap your "Profile" icon at the bottom right corner of the screen to head to your profile. 
2-Go to Privacy Settings 
You will see a "three-line" or menu icon in the upper right corner.
Tap it and choose "Settings" from the menu appearing on the screen.
From the Settings menu, select "Privacy."
3- Head to the "Messages" option 
Once you are in the Privacy settings, scroll down till you find the "Messages" option. Select it and go down to the "Group Settings" section.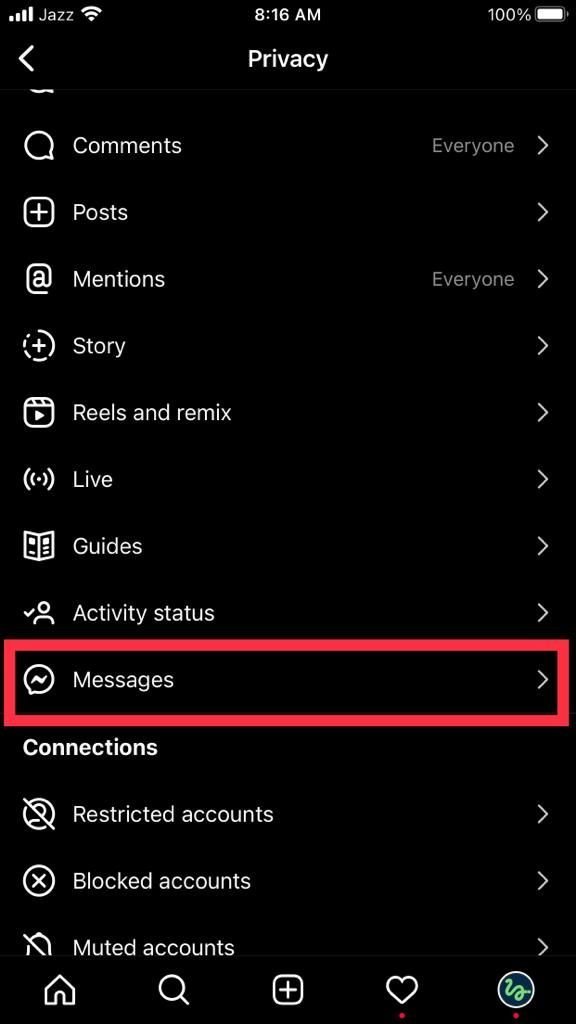 Choose the "Who can add you to groups" option. Two options will appear on the screen. Select the one that you like.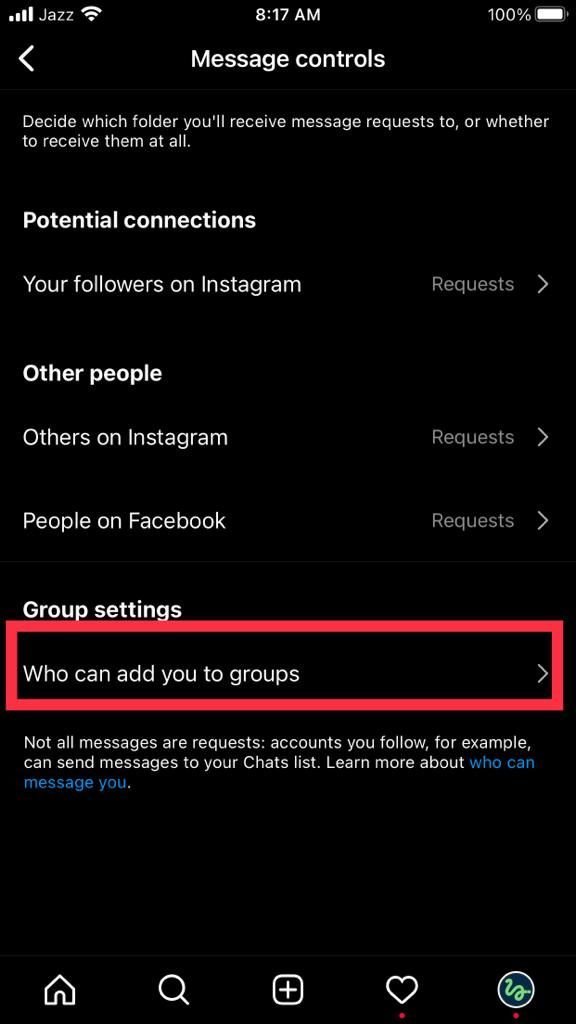 If you want to stop people from adding you to Instagram group chats, I recommend you go for the "Only people you follow on Instagram" option.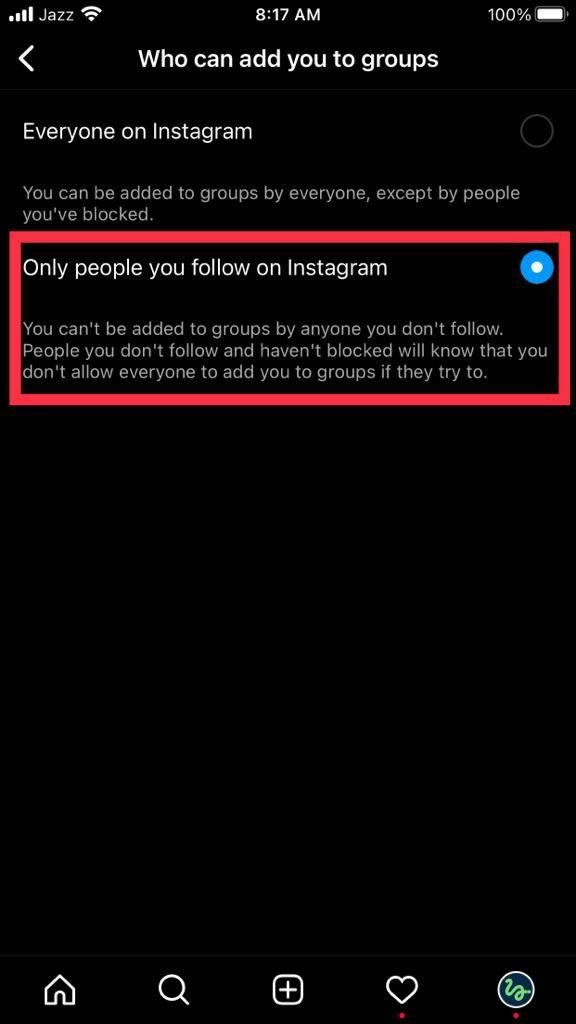 You have successfully restricted your followers from adding you to random Instagram group chats, and only people you might know and follow will be able to add you to their group chats.
Conclusion – How To Leave An Instagram Group Chat?
Using the 5 simple steps explained here, you can now leave any unwanted Instagram group chat.
This will also enable you to keep your Instagram direct messages tab a lot more organized and clean and prevent spammers from cluttering your inbox with unsolicited group messages.
Muting the group chats is another way to keep yourself from feeling overwhelmed by Instagram group notifications.
Thankfully, Instagram keeps users' consent above all other things, which is why it even allows you to restrict people from adding you to group chats.
This guide has covered everything you need to make your time on Instagram smoother and hassle-free.
You can now scroll on your Instagram feed as much as you want, and no unnecessary group chat notification will disturb you. Happy Scrolling!