Zagg makes great wireless keyboards for desktop computers as well as iPad lines. However, they are famous for their iPad folios, which also come with detachable keyboards.
These are quite well-built products, especially the newer Messenger Folio 2 and Pro Keys, at a very reasonable price.
However, they do have their quirks, and often, you will find yourself with a Zagg keyboard not working.
I have the older Messenger Folio case with a detachable keyboard and it has malfunctioned a few times. But every time, a few DIY fixes have solved my problem.
In this guide, I am going to compile all the issues I have faced and their possible solutions.
Common Zagg Keyboard Problems
Below are a few common problems that I have faced over time with my Zagg messenger folio.
Some individual keys not working
Keyboard not charging
Bluetooth pairing not working or disconnecting.
Keys registering double stroke (you press once, it types twice)
Keyboard is not turning on at all.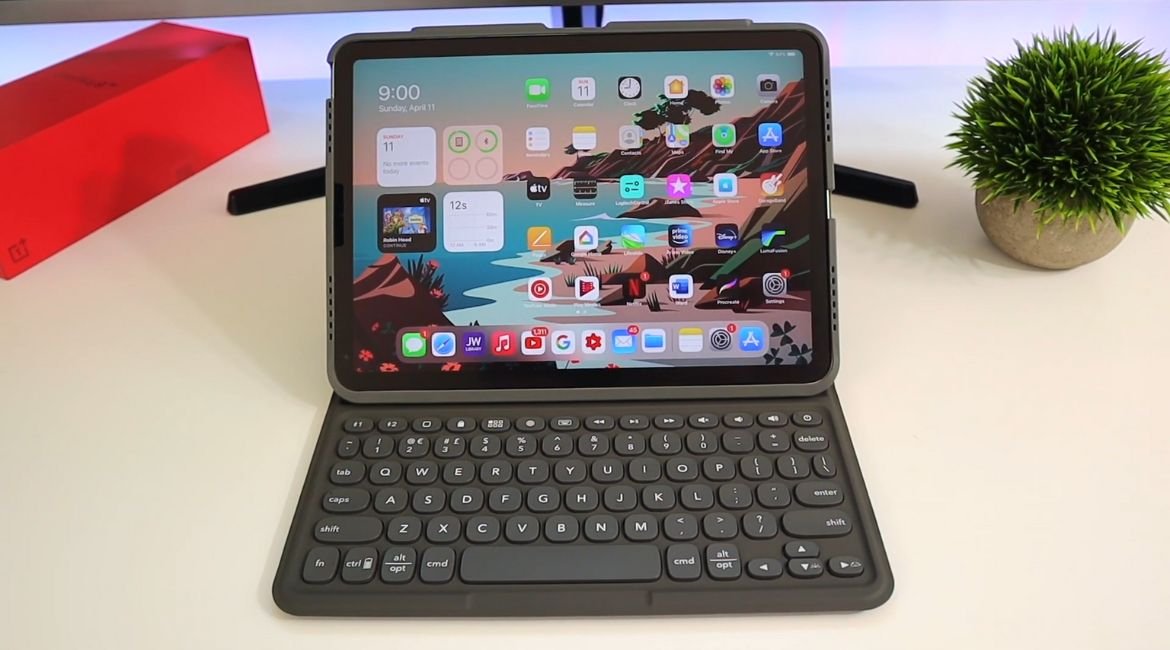 I will go through different troubleshooting methods to fix these most common issues so that you can start typing on your Zagg keyboard again.
Clean Your Keys
One of the first problems I faced on my Messenger Folio was random keys not working at times.
Especially the Shift key will become unresponsive quite frequently.
I tried a lot of different DIY methods to figure out the issue, but in the end, it turned out these keyboards are very susceptible to small dust particles.
I read somewhere that cleaning your keyboard will usually fix these unresponsive keys. Since all the other keys were working, I knew the keyboard wasn't wholly faulty.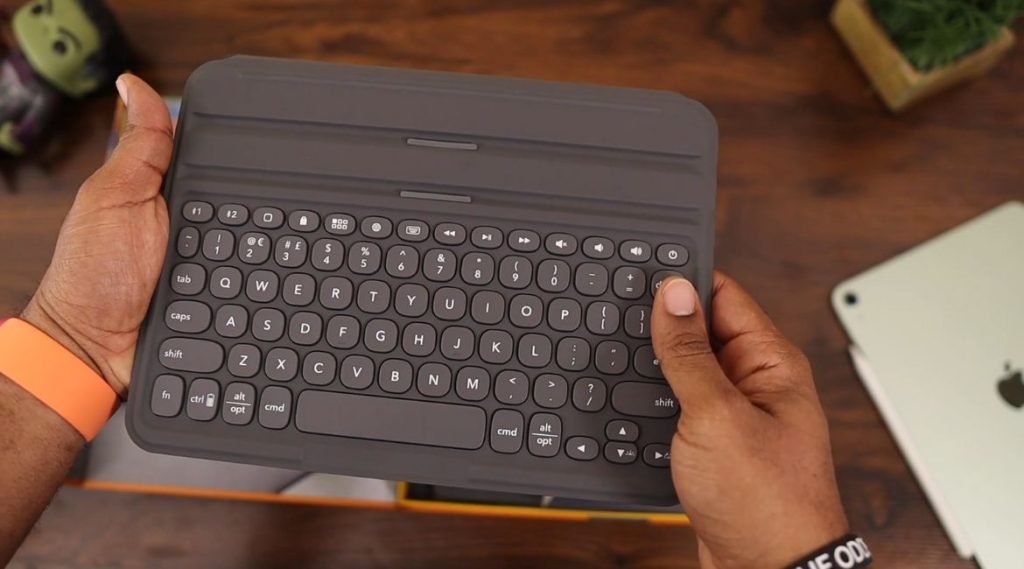 So I took a compressed air Can and sprayed generously at the malfunctioning keys from all sides to remove the stuck dust particles.
Viola! My keys were working again.
You can find these Cans in any hardware store or even order them on Amazon (Link). They are safe to use on any keyboard that needs cleaning.
In general, it's a good idea to keep your keyboard clean from dust and debris.
If you are like me and eat around your workplace (or use your keyboard in the kitchen), it's probably a good idea to do it weekly to brush off any food particles.
I have fixed my Logitech iPad keyboard using a compressed Air Can and have been a big fan of it since then. Its cheap and it works.
If you want to be thorough, you can get one of those Keyboard cleaning kits and do a better job than a can of air.
Turn it OFF & ON Again
One of the oldest jokes in IT is, "have you tried turning it off & on again?" and believe me, it works. I have been repairing my wireless keyboards using this method for years.
Most of the time, any malfunction with your computer accessories is due to temporary glitches and bugs. A simple turn off & on again routine can fix them.
If your Zagg keyboard is not connecting to your iPad or PC (yes, they make keyboards for PCs as well), you can just turn both the keyboard and your device off & on again.
This will clear the cache and remove any bugs that might be preventing your keyboard from working as expected.
Check Bluetooth Pairing
I have yet to come across a Bluetooth keyboard that has never malfunctioned. Bluetooth is a reliable technology, but it misbehaves from time to time.
If your Zagg keyboard is not pairing with your device or disconnecting frequently, don't worry, that can be fixed with a few steps.
First of all, know the correct procedure to successfully pair your keyboard with your iPad. To do this, follow the below steps:
Turn Bluetooth ON on your Apple iPad. It will start searching for available devices.
Now, press & hold the Bluetooth key on your keyboard for 3 seconds. Blue LED under the key will start flashing.
Look for your keyboard name to appear under available Bluetooth devices on your iPad.
Tap on it and pair.
If the process fails with "Pairing Unsuccessful" message, you can try it again a few times. Usually, it works on the first try.
If your device is not pairing or pairing but disconnecting after a few minutes, there can be a few reasons:
Bandwidth interference: Bluetooth and other wireless devices like your home wifi or even your kitchen microwave oven use the same 2.4 GHz ISM spectrum band. This causes Bluetooth interference.
If you have a lot of these devices around, turn them off or move away from them.
Multiple connected devices: Your Zagg Bluetooth keyboard can pair to multiple devices, and at times, this creates problems.
If you have been using the same keyboard with multiple devices, go to the Bluetooth settings of these extra devices and "forget" your keyboard.
Change Keyboard Settings
Incorrect language settings can also hinder the correct functioning of your Zagg keyboard.
If you have just bought your Zagg keyboard and trying to connect it to your iPad without much success, go to your keyboard settings and see if the correct language is selected.
To do this, follow the below steps.
Go to "Settings" on your iPad.
Tap on "General" scroll down and tap on the "Keyboard" option.
Tap on "Hardware Keyboard" option and at the top, you will see your current language – something like "English(US)."
Tap on the "Automatic" in front of it, and on the next page, select your preferred language.
If incorrect language was the issue, this should solve your problem.
Check Your Zagg Keyboard Charging
Your Zagg wireless keyboard has a built-in battery that you can charge using USB connector.
If you press the power button and you don't see any light activity at all, that usually means your battery is low or empty.
You can also check your battery level by pressing fn + ctr key combinations on the keyboard. The LED indicator will flash to indicate the charge level as follows:
3 Green flashes = 50% or more battery life
3 Yellow flashes = 25-50% battery life
3 Red flashes = less than 25% battery life
If your battery is low or completely drained, plug your keyboard into any 5V USB outlet and wait for it to fully charge.
I have also noticed that when my battery is below 25% the Bluetooth pairing fails more than usual. It has something to do with Bluetooth signals getting weak at low charge.
Update device OS
If your iPad has not been updated in a while it can cause peripheral devices like external keyboards to behave unexpectedly.
New updates bring performance improvements and bug fixes so its always a good idea to run the latest iPadOS version on your device.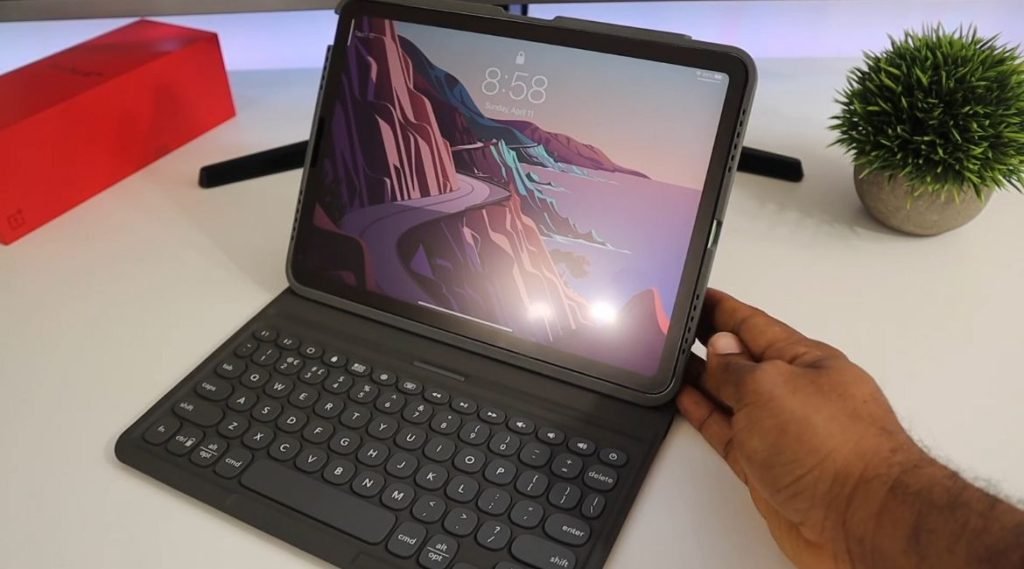 To update, go to Settings > General > Software Update. If an update is available, you will get an option to download and install it.
Once the update is installed and your iPad reboots, try connecting your Zagg keyboard and see if it is working correctly now.
Contact Zagg Support
If all the troubleshooting methods fail and you are still not sure how to fix your Zagg keyboard, its time to call the customer support team and get some professional help.
If your keyboard is under warranty, you can even return it and get a replacement.
You can contact Zagg support team using one of the methods below:
Phone (International customers): 1-800-700-ZAGG [9244] | 00-1-801-839-3906
Email: questions@zagg.com
Zagg Keyboard Alternatives
If you don't want to spend more time figuring out what is wrong with your Zagg keyboard and just want to get a new one, I would suggest looking at two alternatives.
Logitech Folio Touch: Great design, great typing, and comes with its own trackpad. Also very affordable.
Apple Smart Keyboard Folio: Slightly more expensive but it is an official Apple accessory so, you can't go wrong with this one. Top-notch quality, build, and native integration.
Zagg Keyboard Not Working – Summary
In this article, we discussed various DIY methods to fix your malfunctioning Zagg keyboard. Here is a brief summary of what you can do:
Clean your keys with compressed air.
Restart both your iPad and keyboard.
Check for Bluetooth interference.
Select the correct language settings.
Fully charge your keyboard before using it.
Keep your iPad OS up to date.
If these don't help fix your issue, you can contact Zagg customer support to get professional help or even replace it if your device is under warranty.