Roku TVs are great while they work but they can sometimes face issues that need a bit of troubleshooting to solve.
One such similar case people have been facing recently is that Roku TV won't say connected to wifi network. The issue originates either in the Roku TV's new firmware or in your Router settings.
Roku keeps disconnecting from Wifi because either your Roku TV firmware has updated or your Router settings have changed. In either case, the new device configurations are incompatible with each other.
To fix the issue, we have to go through a number of troubleshooting methods and see which one fixes the issue.
Roku TV won't stay connected to Wifi – Solutions
For most people, the issue occurs out of the blue. Their Roku TV has been working fine for years and suddenly, the Wifi starts misbehaving and dropping connections to the router.
Well, it might seem out of the blue but something has definitely changed. Either you updated your Roku TV to the new firmware or your ISP has changed settings on your Wifi router.
I searched the discussion forums and Facebook groups for hours and hours reading comments from Roku users who have been dealing with the same issue and I have found a few troubleshooting methods that have worked for them.
I have arranged them in terms of their effectiveness to solve the issue. Start from the top and make your way down the list trying each method and rechecking your Roku's connection.
1. Update your Roku firmware
Some problems are tracked back to the Roku's firmware and updating to the latest firmware version should fix these issues.
Firmware updates are notorious for breaking devices. It happens to flagship smartphones, Laptops and even smart TV platforms like Roku.
First of all, check when did you last update your TV's firmware. That should give you a clue about the problem.
If the connectivity issue started right after the firmware update, then that's the reason.
Although there is no straightforward method to "undo" an update, it is quite possible that a new update is made available to fix the issue.
Check if you are on the latest version of Roku's firmware. If you are not, you will get a prompt to update your device.
To check just go to the Settings > System > Software update and update your firmware
If the firmware was an issue, this should fix the Wifi connection issue.
2. Change router compatibility settings
If you are using ISP provided router, its settings can be changed/updated from the backend. One of these settings includes the backward compatibility settings.
Most Wifi routers use three different wifi standards:
802.11b (released 1999)
802.11g (released 2003)
802.11n (released 2009)
These are different Wifi standards used by router manufacturers and device manufacturers. For most routers, you can select compatibility modes from your setting area and for others, your ISP set them from the backend.
802.11b and 802.11g are quite outdated standards and only devices manufactured in the early 2000s use them but they are used nonetheless.
If your TV was using 802.11b or 802.11g standard Wifi and your ISP set the router to only work over 802.11n standard, you are going to have a problem.
To fix this, just log in to your router setting page and check under Wireless settings. Look for something like in the above picture and select the option with the older standard 802.11b/g/n
If you are not sure how to do this, just ring up your ISP and ask them to guide you or set it from the backend.
Tell them you have old devices in the house that needs the router to transmit over older standards. Once they do, you should be fine.
3. Change router bandwidth
Some routers are dual band and can transmit over both 2.4GHz as well as 5GHz frequencies. However, not all Roku devices and TVs support 5GHz.
Some Roku devices have single band radio (like Roku Express and Premier models) and can only work with the 2.4GHz band. They won't even see the 5GHz band.
As was the case with wifi standards, your ISP or the Router manufacturer can switch the radio band to 5GHz leaving your 2.4GHz devices in limbo.
To see if that is the problem, just log in to your router configuration page, go to wireless settings and enable dual band (both 2.4GHz and 5GHz) channels.
This is one of the most interesting troubleshooting methods I found from one of the Roku users.
Roku has secret menu screens that can be accessed when certain keys on your remote are pressed in a certain order.
One of these secret menus is the secret network menu which can be accessed by pressing the following button in the exact same order and number.
Home button – 5 times
Fast forward – 1 time
Pause/Play – 1 time
Rewind – 1 time
Pause/Play – 1 time
Fast forward – 1 time
Once you press these buttons in that exact order, a secret menu will open with network options. In this menu disable the Pings and BT options.
Once you do that, return to the main menu, reconnect to Wifi and see if it is working fine now.
5. Fix weak Wifi signals
This one is a pretty common issue as well and most people just don't realise it. A good signal strength not only help you establish a strong connection but also results in buffer-free streaming.
Your Wifi should not be too far away from your TV for it to receive full strength of the signals.
You can check your Wifi signal from Settings > Networks > About
If your signals are weak, it will result in a frequent drop of connection and manual connection every now and then.
For best results, just move your router closer to your where your TV is placed and you will be good.
6. Power cycle your Roku
You might have heard of "have you tried turning it OFF & ON again" from an IT guy in your office as an answer to any computer-related problem.
It is a simple solution that fixes most basic electronic issues. It is also called power cycling your electronic device.
If you are struggling with an unstable Wifi connection on your Roku TV or device, this is one of the first things you should try. Just turn it OFF & ON again. 90% chance is that it will fix the issue.
Power cycling your Roku device is easy. Just unplug your device from the power and remove the HDMI. Wait for 60 seconds to let all the internal capacitors to discharge. Plug in the device again and restart.
If you are using a Roku branded TV from the likes of TCL or Hisense, just unplug the TV from the wall, push the power button on the backside of the TV for 10 – 30 seconds and plug it back in.
Once the restart is complete, connect to the internet again and try watching a video and see if the connection stays stable.
7. Remove and re-add the channel
Some users have reported that the issue is not at the TV or platform level but at an individual app level.
If your Wifi connection is dropping out when you open and play from a specific app, then its an app-level issue.
To fix this, you have to remove and re-add that App channel.
Removing an app is easy. From the channels list, click on the app icon and then click on "Remove app"
Once the app is removed, you can then search it again in the channel list and re-install it.
If that particular app was the issue, it should be good to go now.
8. Enable fast start TV
Some Roku TVs have an option called "fast start" that keeps the TV in standby mode for fast booting.
It helps you quickly wake your TV up and running without going through the slow boot screen that you usually get.
One of the benefits of Fast start is that it keeps the Wifi connection alive as well.
If your TV is suffering from frequent drop connections and you have to manually re-connect the Wifi on each boot, enable fast start option.
9. Reset network connection
If restarting your router and turning off the firewall didn't help, perhaps a network reset would help.
When you reset your Wifi network, the TV will forget your network name (SSID), remove any and all configurations and will restart.
To reset your network connection go to Settings > Advanced system settings > Network connection reset and reset your network.
Once restart, you will have to connect the Roku TV with the network again by re-entering your Wifi password.
10. Factory reset
Factory resetting your device will restore the default settings and make it new like it came out from the box.
Most software glitches are solved by a factory reset and it is done as a last resort when everything else fails.
If the above steps don't solve your Wifi connection issue, a factory reset can help.
you can reset your Roku device by checking its back and looking for any button or pinhole with the word "Reset" written above or on it. (See the image below)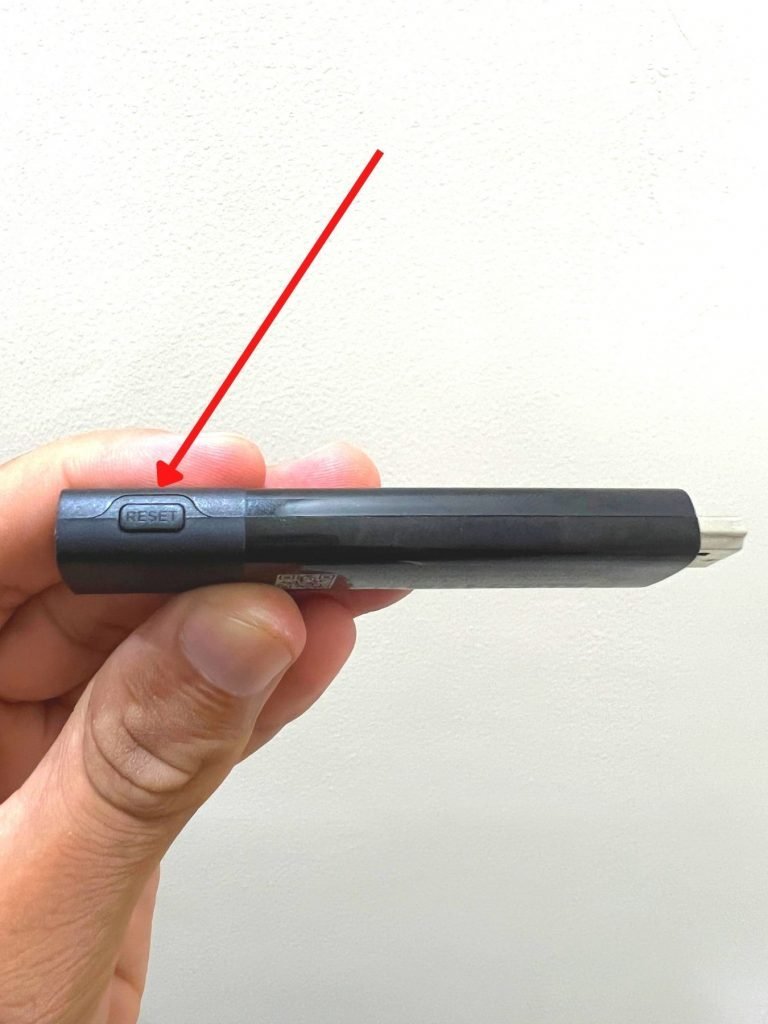 The button may be quite small, so make sure to look for it carefully or check the device's manual.
Press and hold the Reset button for about 10 seconds or until the device's light starts blinking. Once it's done, set up your device again.
If you have Roku TV, you can reset it using the settings menu. To do so, follow the below steps:
Navigate to the Settings menu
Scroll all the way down to Systems tab and select
From the sub menu, select Advanced System settings
Chose Factory reset
Your Roku TV will restart and will go through the factory reset process which can take a few minutes.
Once complete, your device will be reset back to factory defaults and your issue will be solved.
Do note that after factory reset, all your customizations, additional downloaded apps, and data will be fully wiped out so make sure you back up your important data if you need it later.
Factory reset will also fix other common Roku issues like audio getting out of sync and the screen returning a green tint.
11. Use Ethernet cable
If you tried all options but still couldn't solve the Wifi disconnect problem, perhaps the issue is more deep-rooted in hardware and needs expert hands to fix.
In the meanwhile, if your TV has an ethernet slot (most TVs do), you can use Internet wire to connect directly to your Wifi router and totally bypass your faulty Wifi.
One of the benefits of using an ethernet cable to connect your TV is that it results in a very fast and reliable connection. Your internet speed tends to degrade over Wifi but over ethernet, it remains constant.
So if you connect via ethernet, you not only solve your Wifi problem but also get great reliable internet to your TV.
Roku Wifi disconnecting – Conclusion
Your Roku TV wifi can disconnect for various reasons but the 2 most common reasons are a faulty Roku firmware update or a change of settings in your Wifi router by the ISP.
To solve the issue, apply the 11 different troubleshooting techniques I have listed above. In most cases, the issue is solved from the first couple of methods.
Happy streaming 🙂