Skullcandy makes great budget earbuds, but they do run into pairing issues from time to time.
If you have bought a new pair of Skullcandy Jib True or Jib True 2 earbuds and don't know how to pair them, this guide is for you.
I have also explained one very common problem with the Jib earbuds where both earbuds don't sync together and you get audio in either left or right earbud.
So, let's first look at how to properly pair a set of new Skullcandy Jib earbuds.
How to pair Skullcandy Jib earbuds?
To be honest, the pairing process for the Skullcandy Jib is not very intuitive. If you are using your Jibs for the first time, follow the step-by-step process below to get your earbuds paired for the first time.
Note: The same process is also applicable to the newer Skullcandy Jib True 2 model as well.
1. Unpair & turn off your Jibs
If you have previously paired (rather unsuccessfully) your earbuds with your phone (or with another device, first, you will have to unpair them from your phone by going to Bluetooth and 'forgetting' the earbuds.
Next, manually turn off your Jib earbuds by pressing the button for 4 seconds on each earbud.
Now, put both Jib earbuds in the charging case. The LED light on both will turn red.
2. Sync the earbuds
Before you can pair the earbuds to your phone, you have to sync them together first.
To do this, pull both the earbuds out of the charging case. You will see blue LED light on both earbuds which indicates they are synching to each other first.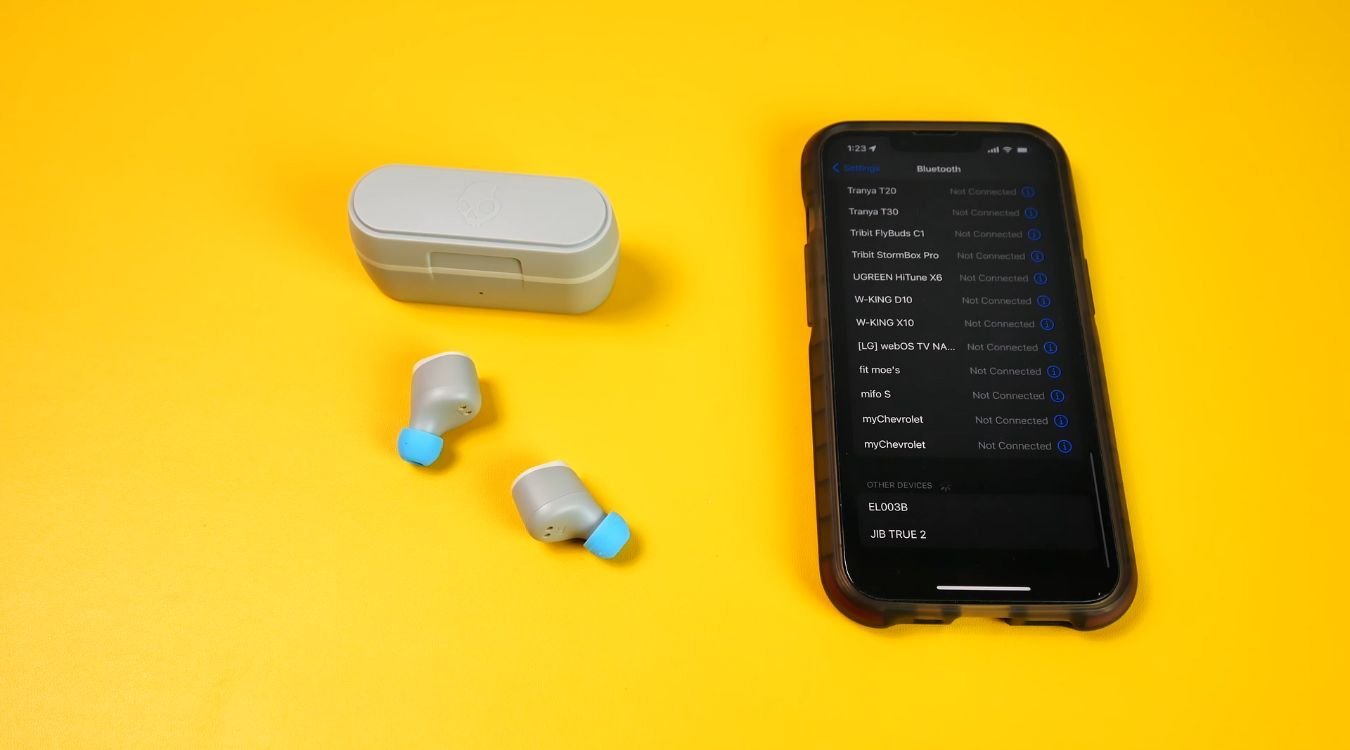 Once synced, Blue LED will turn off on both earbuds, and you will only see a Red & Blue LED flashing on the left earbud only.
This means your earbuds are synced together, and now they are ready for pairing to your phone.
3. Pair to your phone
Now, turn on your phone's Bluetooth from the settings menu and let it scan for nearby devices. Once it finds your Jib earbuds, they will show up as "Jib True" in your Bluetooth list.
Click on the earbud name to begin pairing. If you get a prompt saying "Pair" or "Ok" confirm it. Once pairing is successfully complete, you will hear "Connected" in your earbuds.
Now you are ready to stream some great music to your Skull (Oh! That's why they are called "skull" candy)
Here is a short video from the Skullcandy channel explaining the process more visually
Pairing Problem – Only one Jib earbud working
There is one very common problem with Skullcandy earbuds when it comes to pairing. They get out of sync with each other and only one earbud remains paired to your phone.
In such a scenario, you will get audio only in left or right earbud and not both. Why this happens, I have explained in this detailed blog post if you want to read.
To solve this issue, we will go through a power cycle and reset the earbuds before pairing to the phone again. Below are simple step-by-step process to do this.
Step 1: Unpair your Jib earbuds first
Before resetting, you have to unpair and forget your Jib True earbuds in your paired Bluetooth device list.
To do this, go to your device Bluetooth devices list, tap on your earbuds name (Jib True), and forget the device. This will remove it from your phone.
Now, turn your phone Bluetooth off.
Step 2: Power off earbuds
Remove earbuds from the charging case.
Touch and hold the button on both buds for 4 seconds to manually turn them off.
Step 3: Reset earbuds
Now, to reset them, touch and hold the button on each bud for 10 seconds. The buds will go through a power cycle during which will turn ON >> OFF >> ON again.
Once they are ON, place buds back in the case until both LEDs show red (important!), then take them out.
Step 4: Sync earbuds
Now when you take them out after reset, both buds will power on and flash blue while syncing with each other.
Once the sync is successful, a tone will play, and only the left bud will flash red/blue, indicating that they are successfully synced now are ready to be paired with the phone.
Step 5: Pair earbuds with device
Turn on Bluetooth on your device
Look for "Jib True" in available Bluetooth devices
Select "Jib True" to pair
For Android devices: click "Pair New Device" and select "Jib True"
Select "Pair" and "Ok" prompts that pop up on your screen
A voice prompt will notify you when the earbuds are successfully paired and connected to your device.
Why Skullcandy earbuds get out of sync?
Skullcandy earbuds get out of sync quite often, and each time, you have to go through the same reset routine (it's a good idea to bookmark this page for future reference)
But why does this happen? The answer is – MONO MODE.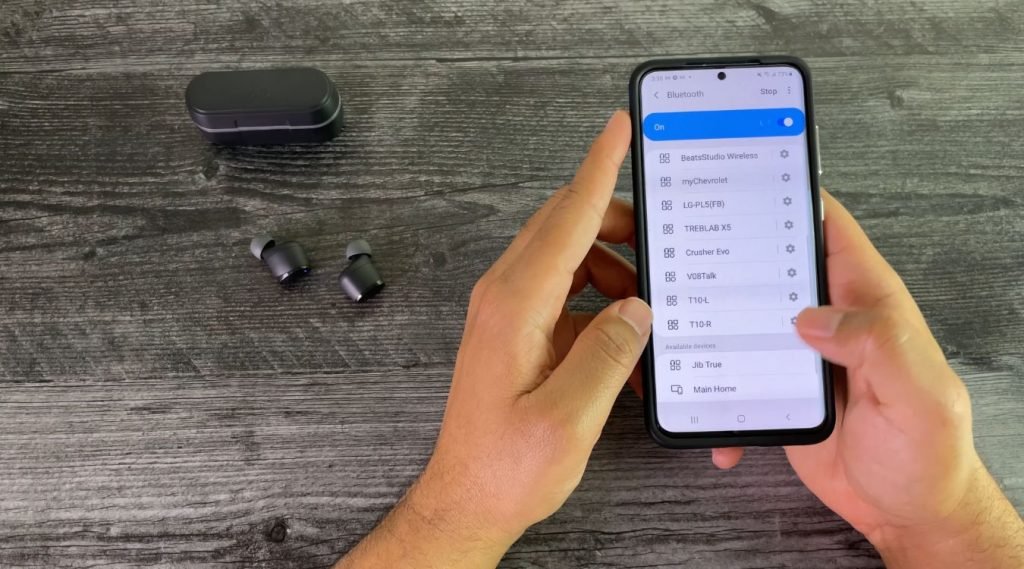 Skullcandy earbuds can be used in mono mode, where you only put one earbud in your ear and the other is in the case. This is convenient for attending calls (I do this quite often)
However, due to some long-standing unresolved software issues, your Jib earbuds will get out of sync with each other when used in mono mode.
So when the next time you want to use them both in stereo mode, you will get audio only in one ear. The earbuds get "stuck" in mono mode for some reason.
This is not an issue just with the Jib True. Other models also have the same complaints, like the Skullcandy Indy won't pair together and will need a reset.
But since these are budget earbuds, you can expect a few hiccups here and there. For the price, this is quite acceptable.
I even prefer my Skullcandy Indy for its superior base compared to the much more expensive AirPods Pro.
If you are looking for great alternatives to your Skullcandy earbuds, here are 5 top recommendations from someone who values exceptional sound quality.
Conclusion – how to Pair Skullcandy Jib True Wireless Earbuds
In conclusion, pairing Skullcandy Jib True wireless earbuds can seem difficult at first, but with a bit of patience and the right steps, it's a relatively simple process.
By following the steps outlined in this blog, you'll be able to successfully pair your earbuds with your Bluetooth device in no time.
If your earbuds won't sync together, simply unpair or forget them in your paired Bluetooth device list, power them off and reset them, sync them, and pair them with your device again.
Once connected, you'll be able to enjoy the high-quality sound and convenience of your Jib True wireless earbuds to the fullest.