ONN makes great budget headphones that are pocket friendly yet have the latest features in headphones technology like Active Noice Cancellation (ANC), Ambient sound, and voice assistant.
They connect to your phone or any other device using Bluetooth.
If you have bought a new pair of ONN headphones and are facing a problem pairing them with your phone or computer, this article will guide you through the step-by-step pairing process.
We will also discuss common issues users face during and after the pairing process, so make sure you read through the end.
How To Pair ONN Headphones?
1. Put Your Headphones in Pairing Mode
If you look at your headphones, you will see a power button. This button also functions as the pairing button.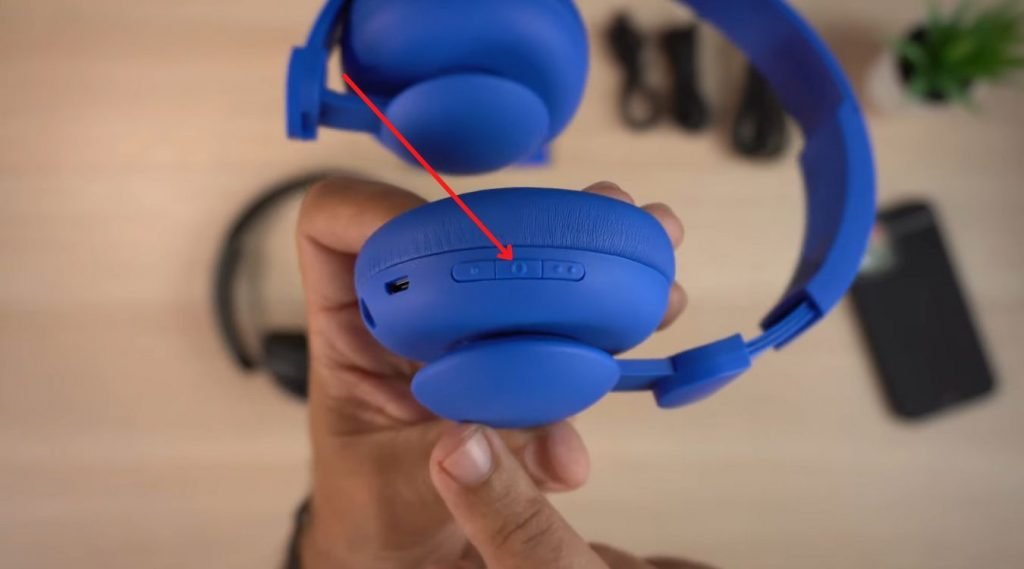 When your headphones are off, press and hold the power button for around 10 seconds or until the LED light starts flashing. Once the flashing begins, the headphones have entered pairing mode. 
2. Turn on Bluetooth on your device
For Android: Go to your Settings > Connections and Turn on Bluetooth.
For iOS: Go to Settings > Bluetooth and turn the toggle to ON position.
For MacOS: Click on the Bluetooth icon on top of the screen and turn ON the toggle.
For Windows: Click the Start button, go to Settings > Devices > Bluetooth & other devices and turn on the Bluetooth toggle button.
3. Connect your headphones
Once you turn ON the Bluetooth on your device, you will get a list of Bluetooth devices nearby.
Look for a device name of something like "on on-ear" or similar. The exact name varies by the model of your ONN headphones but it will be pretty similar and you easily recognize.
For Android, they will move to the paired devices section, and for Apple, they will move to the My devices section. 
Troubleshooting Common Problems 
The above-mentioned 3-step process is how convenient it should be to connect to any Bluetooth headphones to your device, and you should be able to enjoy your music uninterrupted.
However, at times, the ONN headphones will face some additional problems and might need some troubleshooting. Let's look at the most common issues and how to iron them out to get your headphones working A-OK. 
Only one ONN earbud connecting
A common problem that users have faced with the ONN Earbuds is that only one of the two earbuds connects to the mobile device.
The instructions manual that comes with the Earbuds does not explain why this happens, but we have a solution. 
The earbuds usually have a power button on each of the pieces. You must turn them off if your device does not connect to both.
You can do this by pressing and holding the power button on both earbuds. Once the red light goes off, press and hold the power buttons simultaneously until the LED starts flashing for the second time.
They should now be paired. 
Unstable audio and distortion
Even when your ONN headphones are connected to your device, there might be problems with the audio quality, or the connection might keep dropping.
Here are a few reasons why your headphones might have distorted audio or unstable connection.
You are out of range from your connected device. Most Bluetooth headphones including ONN have a range of up to 10 meters. Beyond that, you will get unstable connection.
Your ONN headphones or earbuds are connected to more than one devices simultaneously and they keep switching between them.
To avoid this, turn off Bluetooth on device that you are not using or remove the Bluetooth pairing with your ONN headphones.
Another likely reason for distorted audio is low battery so make sure you fully charge your headphones or ear buds before using.
Headphones connect once but won't connect again
Another common problem ONN users face is that the headphone connects conveniently for the first time but won't do the same afterward.
A simple solution is to ensure you disconnect the headphones properly after use. 
To put the headphones out of Pairing Mode, turn off the Bluetooth on your device before you turn your headphones off.
Go to your device's settings and tap on the Bluetooth option to turn it off. Once it is off, turn your ONN headphone off by pressing the power button for 5-10 seconds. When you turn them back on, they should be out of Pairing Mode. 
Things to keep in mind
The ONN headphones might not have the best reviews on the internet regarding their user experience. Afterall, they are a budget headphone that still offer great value for money.
If you have made the purchase, you can take care of a few small things that can prevent the commonly faced problems from showing up on your devices.
Faulty cables
Many of the connectivity issues are caused by the charging cable being faulty. Damaging a charging cable is simple, and you might not notice that you've done so often.
Ensure the cable you use to charge your headphones is original and in optimal condition.
A faulty cable might charge your headphones, but it can cause trouble with their performance and battery life due to the unstable electric charge. 
Check conflicting apps
Whether you have an Android, Apple or Windows device, there are some apps that sometimes interfere with the connectivity of wireless headphones, such as Weather1, Adored and AirDroid.
If you are facing connection problems on your ONN headphones, check for Bluetooth compatibility of all third-party apps you have downloaded in your phone.
Since its hard to detect these compatibility issues, the best place to start looking for such problems is user forums and relevant sub-reddits and see if someone else has similar problems.
Avoid Bluetooth crowd
It is quite common for wireless signals to interfere with Bluetooth connectivity.
A Bluetooth connection works at a frequency of 2.4 GHz. However this is a very common band and there are plenty of appliances in our homes that use the same frequency and might interfere with the connection.
Some of these include kitchen microwave oven, wireles security cameras, Wifi routers and baby monitors etc.
To ensure a smooth pairing process and user experience, step away from any surrounding electrical devices that might be sending or receiving frequency signals at the same frequency and keep the headphones within 3-feet of your mobile device.
Clean your charging slot
Charging slot on your ONN headphones can accumulate dust over time. When this happens, you will face difficulties during charging when the charger refuse to connect at times.
To make sure you can charge your headphone normally, clean your charging port when it gets dirty. You can use soft cotton dipped in isopropyle alcohol to clean the slot. Avoid using water as it may short-circuit the port.
Clean the headphones away from moisture and dust to prolong its life.
Final words
The ONN headphone is ranked as one of the best budget headphones in the market, providing value for money. They are affordable and easily accessible with a decent design.
The problems faced by users of ONN headphones can occur with any Bluetooth headphones. However, the frequency of this brand is relatively high.
Nevertheless, there is no problem too big to be solved with Bluetooth headphones unless you soak them in a glass of water or run your car over them.
Even so, some models have continued to work, believe us or not. We have discussed the most common problems faced by users of ONN headphones in this article. Most of these methods can also be applied to other Bluetooth devices like wireless keyboards and mouse.
If none of these have helped solve your problem, it might be time to get in touch with the company and demand a refund.