Are you concerned about your Instagram calls being visible on the phone carrier bill? You are right to worry about this, as most users don't want to see their Instagram calls on phone records.
This is not only a compromise on your privacy, but it will also lead to a lot of clutter and mess in your phone history. So, do Instagram calls show up on phone records?
The good news is that your Instagram calls don't appear on your phone bill, BUT they do appear on your phone's recent tab.
If you don't want someone to see who you have been talking to on Instagram history, this guide covers all the aspects. I will also explain how to remove all records of your recent Instagram calls.
Read this guide to the end to know everything about Instagram calling and how and where the records appear on your phone.
Can You Find Instagram Calls on Your Phone Records?
The good news for you is that none of the calls appears on your phone bill records, whether video or voice calls.
As you don't use any phone number for connecting with your friends and followers via calls on Instagram, there is no point in the call record showing up on your phone bill history.
Your phone network provider, like Verizon, Sprint, etc. has no access to your internet data, and hence your Instagram calls won't appear on your phone bill or phone record.
While making an Instagram call, you are not ringing another's phone number and aren't using the traditional phone networking system; you won't find any trace of the call on your call logs.
Do Instagram Chats Show Up on Messaging Records?
Now that you know that you don't have to worry about your Instagram calls appearing on your phone bill records might as well take a look at Instagram chats.
More than being an app to share and save memories, Instagram has become a practical application for staying connected with friends. The direct messaging feature helps a lot with this.
But just like calls, many Instagram users out there worry about their Instagram chats appearing on their phone messaging history and causing a threat to their privacy.
Fortunately, the answer to whether you will see your Instagram chats on Phone messaging records or not is a straight NO.
This means you can now connect with your friends and followers and send and receive as many messages as you want on your Instagram account without worrying about your privacy.
The only way some other person can have access to your Instagram chats is through your account. So, beware of who you share your login details with.
What are Instagram Calls?
Before 2018, Instagram was merely an app to share posts, including videos and pictures, see your friends' statuses, and peek into each other's life.
Though the app did allow users to connect via messages, it lacked the voice or video calling feature.
It was in 2018 that the manufacturers realized the importance of voice or video calling on the app, which is why it introduced the voice and video calling feature.
The calling feature on Instagram lets you call other users on the same app without needing a phone number.
All you need to make a voice or video call on Instagram is stable cellular data or a Wi-Fi connection.
How to Make a Call on Instagram?
As for making a call on Instagram, you don't need a phone number which might make the process seem a little different. But don't worry; here is a step-by-step guide for making calls on Instagram to make this process simple for you.
Let's go to the guide and see how calling on Instagram works.
1. Go to the Instagram app
For the first step, you are required to open up the Instagram app on your mobile phone. Once you have navigated to the application, enter your login details and sign in.
2. Head to the Direct Messages Tab
As far as the next step is concerned, you are now in the app, so you need to locate the user you want to connect to through a call.
For this step to work, you must go on to the home page. This can be done by tapping the "House" icon at the bottom navigation bar.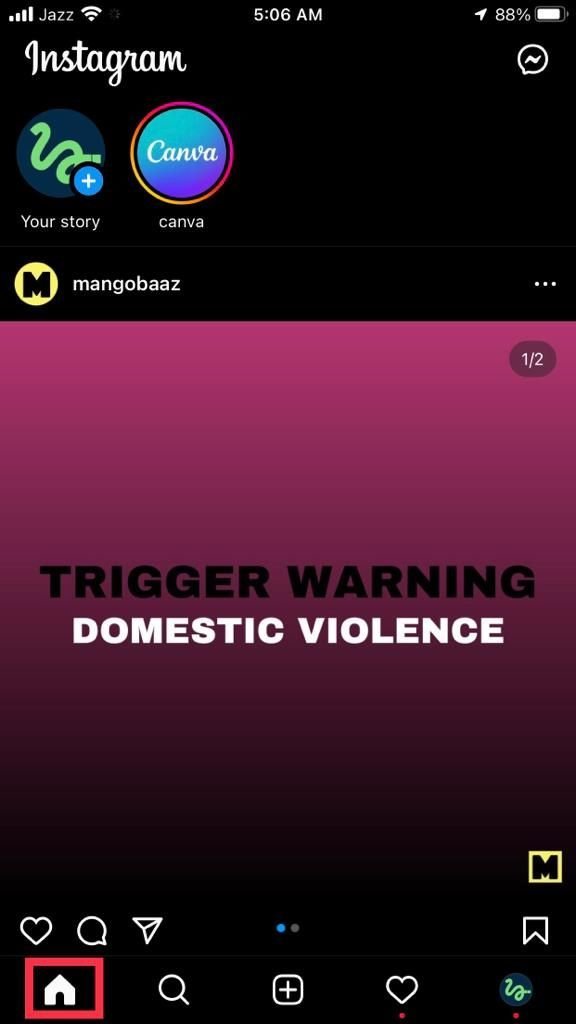 Once you are on the app's Home page, find the "Message" icon at the top right corner of the screen.
This will take you to the direct conversation page. Here you will find all the previous conversations and users you have sent or received messages from.
3. Locate the user you wish to call
If you can't find the user you wish to call in the list of all the users on the direct messages tab, you need to tap the "Compose" button.
You can find it in the upper right corner of the screen, which will look like a pen on a piece of paper.
Once the user you are looking for appears in the search results, check the box present next to the username. The desired user is now added to the recipient's list.
You must now select the "Chat" option to initiate the conversation.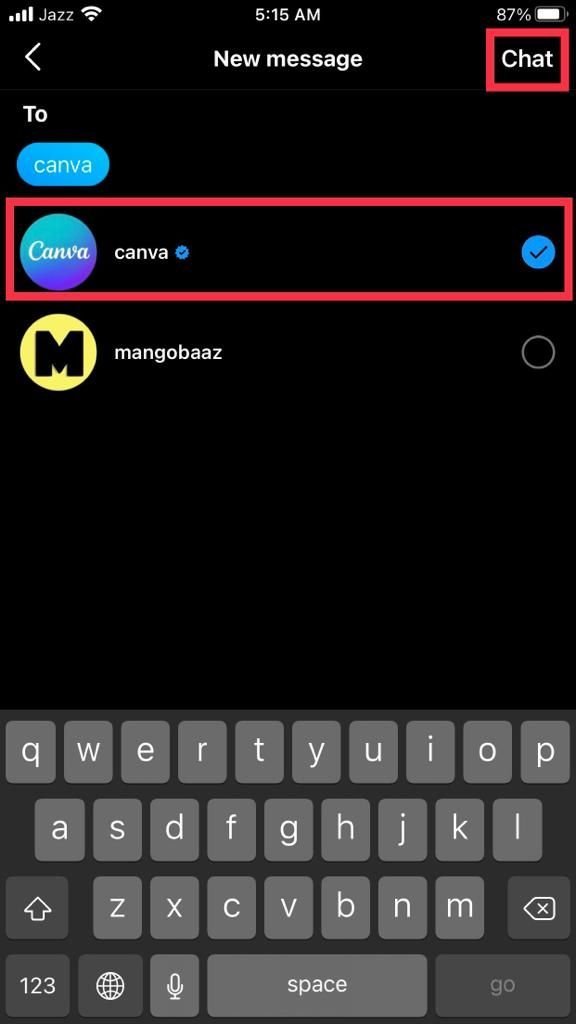 4. Call the User
On tapping the "Chat" button, you will be taken directly to the message page, where you can send a text directly to the selected user.
On the messaging page, you can find two icons at the top. One is a "Reciever" icon, and the other is a "Camera" icon.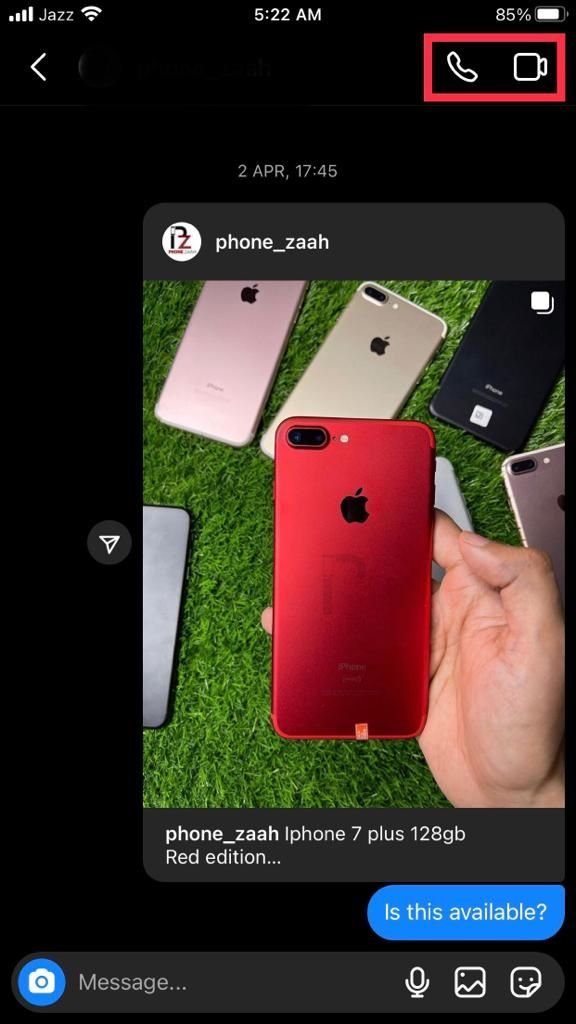 For voice calls, tap the receiver, and the camera icon can be used for video calling. So, decide whether you want to make a voice call or a video call and tap the respective icon.
Doing so will ring the user's phone, and they will also receive a notification if their notifications are turned on.
If the user you are trying to call isn't connected to you on Instagram and you are just on their message requests tab, they won't see a notification unless they accept your message request first.
Removing Instagram Calls From 'Recent'
When you make a call from inside the Instagram app, it keeps a record, but you can easily delete the Instagram call logs from within the app.
If you are an iPhone user, you might see the Instagram calls appearing on the Recents tab of your Phone records as well.
Fortunately, this is not the case with all iPhone users, but if you see your Instagram calls on Recents, you can easily remove them from the call records.
Here are the steps you must go through to remove your Instagram calls from Recents.
The first step you must take to remove your Instagram calls from recent is to navigate to your Phone app.
Select the Recents tab from the bottom, which will appear as a "Clock" icon.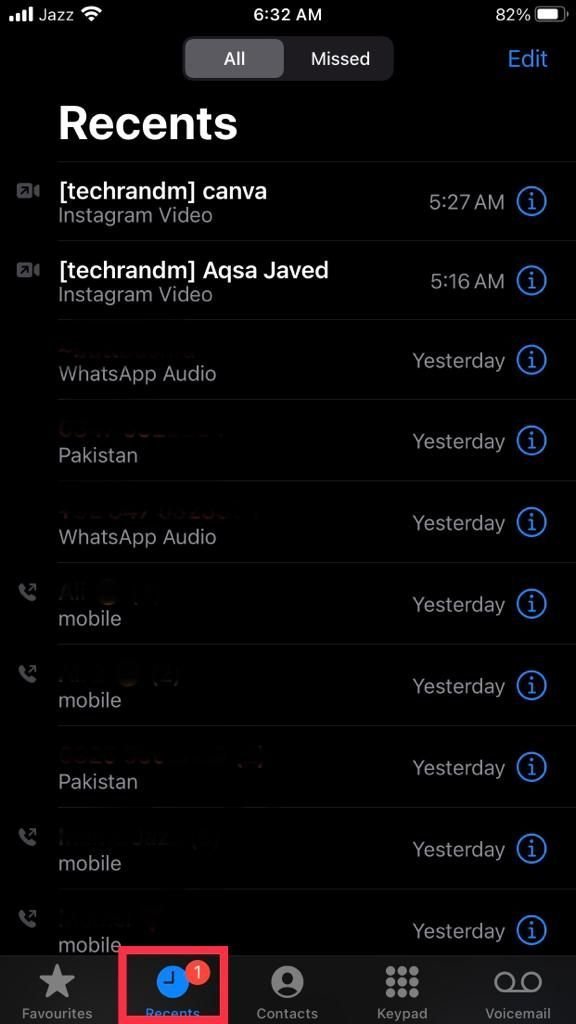 This tab will have all your recent calls, including different third-party apps like Instagram, Snapchat, and WhatsApp.
2- Remove Calls From Recent
To remove your Instagram calls from Recents, tap the call record you want to get rid of. Swipe from right to left on the call and select "Delete" for confirmation.
The call record can also be removed by selecting the "Edit" option in the upper right corner. This must be followed by tapping the "Red" icon on the left to delete the call.
Conclusion – Do Instagram Calls Show Up on Phone Records?
We hope this guide on do Instagram calls show up on phone records has cleared all your confusion.
Now that you know your Instagram calls won't appear on your call logs or carrier bill no matter how many calls you make, you are free to enjoy talking to your friends and followers for long hours.
The social media apps like Instagram, WhatsApp, and Facebook have brought all the users a lot closer, and the fact that these calls won't appear on your Phone records or phone bills makes the whole process secure to a great extent.
Being an iPhone user, you might see the calls on your Recents tab, but they can be easily removed with a few clicks.
So, don't let anything come your way and connect with your followers freely. Enjoy Voice & Video Calling!