Like every electronic device that connects to the internet, your Alexa Echo Dot also has a unique identifier called the MAC address.
MAC address is a 12 digit unique identifier code for your Alexa Echo Dot that let the device connect to the internet and be known on the network.
It's your Echo's name tag on the internet if you will. So, how to find Echo Dot MAC address?
There are three places you can find your Alexa Echo Dot MAC address:
Inside your Alexa app > Device > About section.
During the initial setup on the Available Wi-Fi networks page.
At the bottom of the box your Echo Dot came in.
Let's see in details how you can find your Alexa MAC address using three methods.
How to Find Echo Dot MAC Address?
Although a MAC address is not usually required to setup or operate your Alexa device, its good to know where to look for if you need one.
I once stayed in a hotel room in Kaulalampur for a few days where I needed to put in my MAC address to connect to the internet.
It was an interesting situation because to get the MAC address, I had to first setup my Alexa but to setup my Alexa, I needed my MAC address so it was a chicken & hen situation.
Luckily, my wife had the Alexa box at home and she send me a picture of the MAC address on it and I was able to set up the Alexa alright.
Let's explore in details how to find Alexa MAC address. Do note that these methods will work for any Alexa device including Echo Dot, Echo and Alexa Show.
Method 1: Look inside the Alexa App
This method only works if you have already set up your Alexa and it is connected to your Alexa app on the phone and to your Wifi network.
1. Open the Alexa app on your Phone and click on the Devices button on the bottom.
2. On this tab, you will see your Echo device (s) listed. In my case, I only have one device in my bedroom. Tap on your device name.
3. On the next screen, tab on the Settings gear icon on top right corner of your screen.
4. Scroll all the way down to the bottom and tap on About button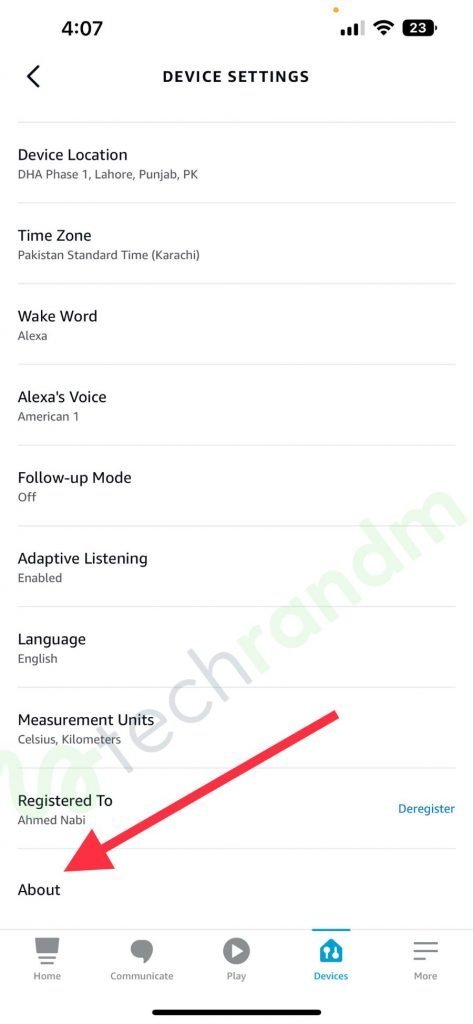 5. On the next screen, you will see your Amazon Echo MAC address listed.
Pro Tip: If your network doesn't allow setting up a new device without knowing its MAC address, you can just setup your Alexa Echo Dot to your phone's hotspot, get the Amazon Echo MAC address using the method above and then reset it with the actual Wifi network.
Method 2: Get MAC address during the Wifi setup
When you are first time setting up your Alexa, you have to connect your device to the Wifi network. During this setup process, you can see your MAC address at one stage.
If your device is already setup, you can reconfigure your Wifi network and get to that screen to note down your MAC address.
To do this, follow the steps below (explained with pictures)
1. Open your Alexa app and go to your device settings (follow step 1, 2 & 3 above) and tap on Change in front of the Wifi Network option.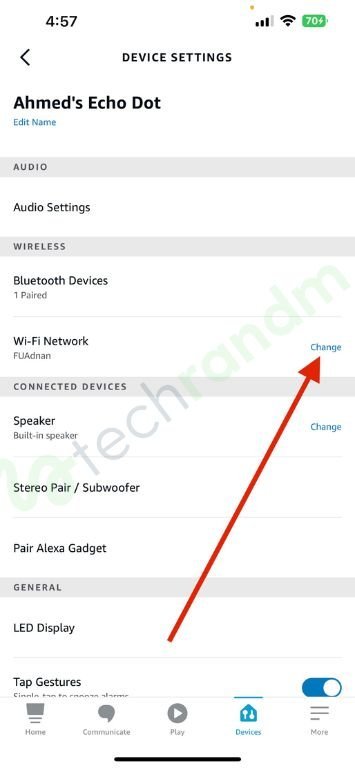 2. Alexa will ask you to press the Action button on your Echo Dot. Put your Echo Dot in setup mode by pressing and holding the Action button on top of your Echo Dot. Once in setup mode, Alexa will inform you.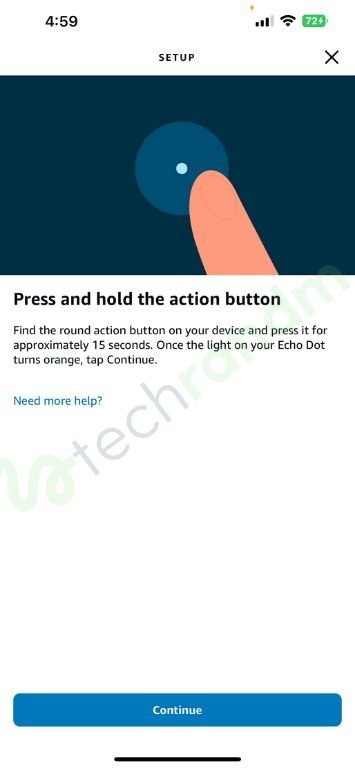 3. Once in setup mode, follow the instructions on screen and you will reach the Wifi setup mode where your Echo dot will start searching for available Wifi networks. You will see a screen like below.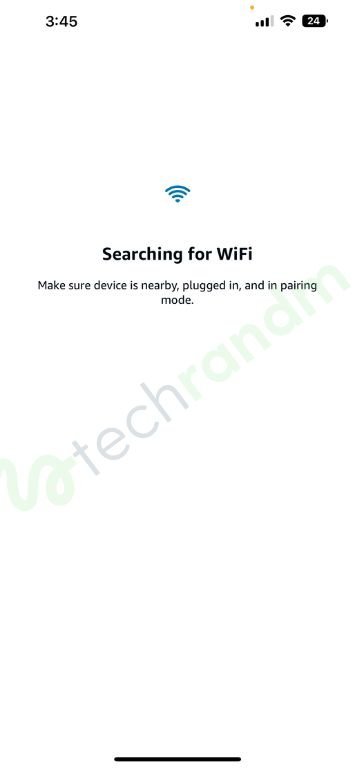 4. When all the available networks are discovered, Alexa will list them down. Scroll down all the way to the bottom and you will see an option to reveal the MAC address for your device.
From there you can see the MAC address. This option has been put there for a reason. Like my hotel room network, some legacy networks will ask users to manually input their MAC address and this is where you get it for your Alexa.
Method 3: Get the MAC address from Alexa box
This is perhaps the most straight forward method to get your MAC address quickly. It is printed on the bottom of each Alexa Echo Dot box.
If you have your box lying around somewhere in the house, just look at the bottom and you will see a sticker that will have your MAC address among other information (see the picture below)
If you are not good with keeping empty boxes arounds the house, you can just peal the sticker from the box and plaster it on the bottom of your Alexa device.
This way, you will always have your Alexa MAC address available.
Why would you need your MAC address?
Normally, you will not need any of your electronic devices MAC address. It's an ID that is automatically transmitted when your device connects to the internet. You don't even need to know about it.
However, there are circumstances where knowing your MAC address becomes necessary. For example;
You are stying in a hotel room where the network requires manual input of MAC address and without knowing your MAC address, you can't connect any device to the network.
You are trying to setup your Alexa on a closed network that requires whitelisting of any internet device before they can be connected to the internet (like a workplace network)
You are trying to troubleshoot your malfunctioning device or sending it for a repair.
These are few common reasons you might need to know your Alexa MAC address.
Can you change MAC address on Amazon Alexa?
Although MAC address is a unique identifier for any device that connects to the internet, it is not hardcoded. You can easily use software to spoof MAC address on your Windows or macOS computers.
MAC address spoofing is used widely for security purposes. By hiding your actual MAC address and using a fake one, you can avoid being tracked on the internet.
So, can you change your Alexa MAC address? Unfortunately, there is no easy way to change the MAC address on your Alexa. It's a closed system and yo will have to crack the firmware to do it.
While changing MAC on your laptop is quite easy and anyone can do it, changing MAC address on your Alexa device might need a bit more of technical knowledge.
How to find MAC address on Alexa – Conclusion
Your Alexa Echo Dot MAC address is a 12 digit unique identifier that serves as a number plate for your device on the internet. It's encoded in the software of your device and used when you connect to any network.
To see your MAC address, you can follow the three methods mentioned above. You can either get it from the Alexa app or just look at the sticker at the bottom of your Alexa box.
You might need the MAC address to connect to a network that requires manual input of MAC address.
Keep in mind that your MAC address is an sensitive piece of information about your device and you should not share it with someone you don't fully trust. That's why I have hid my MAC address in the screenshots above.
Anyone malicious hacker can potentially get access to your device if they knew your MAC address. It makes their work quite easy for them.