Amazon Firestick is a great little device to convert any TV into a smart TV. It's a USB-size plugin device that connects to your TV HDMI port and adds tons of additional functionalities including multiple streaming services.
If you have multiple TVs in your home and wondering if you can use the same firestick for all of them or do you need a firestick for each TV, read this blog post till the end.
You need a firestick for each TV if you want to use them simultaneously. However, you can unplug a firestick from one TV and use it on another TV without a problem.
There's a trick you can use to allow the firestick to work on two TVs at the same time. It will work fine but it comes with some limitations that I am going to discuss below.
How Does a Firestick Work?
A firestick works by accessing your TV's software through one of the HDMI ports. If your TV doesn't have one of these, you won't be able to use the firestick without utilizing an adapter.
The firestick itself comes with Alexa voice control, an HDMI extender, batteries, and a USB cable. Once plugged, the firestick gives you access to various TV channels, streaming platforms, and apps.
Whether the TV is a smart or a normal one, the firestick will overlay its display on whatever your screen originally shows. It's like having another smart operating system inside your TV.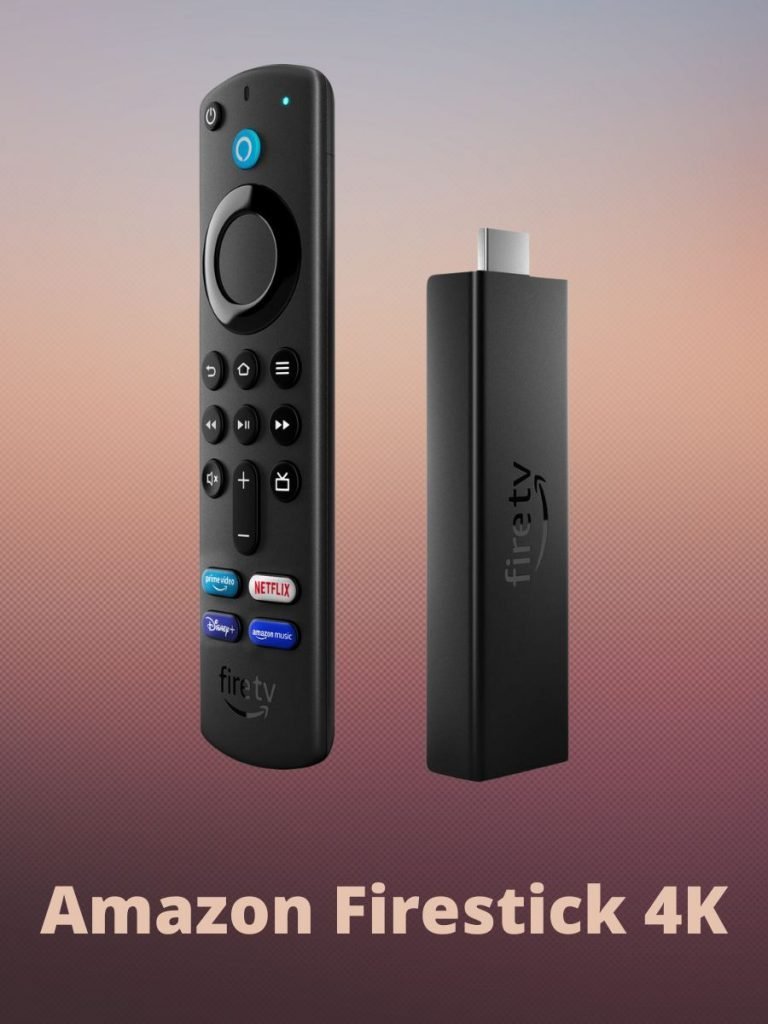 The firestick also saves any settings you change. For example, if you re-organize your apps, delete some, or download some, the firestick will remember that if you unplug it and then plug it again.
You can expect your home screen to always look the same regardless of how many times you take off the firestick.
All of that being said, If your TV is already smart, though. Would you still need a firestick for it?
Smart TVs versus normal TVs
Smart TVs allow you to have a platform similar to that one you'd experience on streaming websites. Through your remote, you'll have access to various apps, websites, streaming services, and more.
Normal TVs are your average TVs that lack that platform. They can still be of high resolution, and support HDMI and USB ports but just lack that streaming home page. They can either run on your standard cable or from a storage device like a USB.
Nowadays, most TVs are smart TVs. They come with their own pre-installed smart operating system (usually based on Android) that can run different apps like Youtube & Netflix. However, not all smart TV systems are user-friendly.
But if you have a normal TV, the firestick would transform it into a smart one with one of the best smart TV platforms in the world – the Amazon fireTV.
Even if your TV is a smart one but you don't like the OS, you can use the firestick to run a parallel smart TV OS inside your existing smart TV.
To be honest, most smart TV platforms are awful including some of the best brands like Samsung.
I personally like LG smart TV OS but the firestick operating system is one of the best in the world right now and can really give your existing smart TV a new facelift.
Do You Need a Firestick for Each TV?
Officially, there's no way to use one firestick on two TVs at the same time. You can unplug the stick from one and put it in the other. However, streaming on both of them simultaneously isn't a feature in the firestick.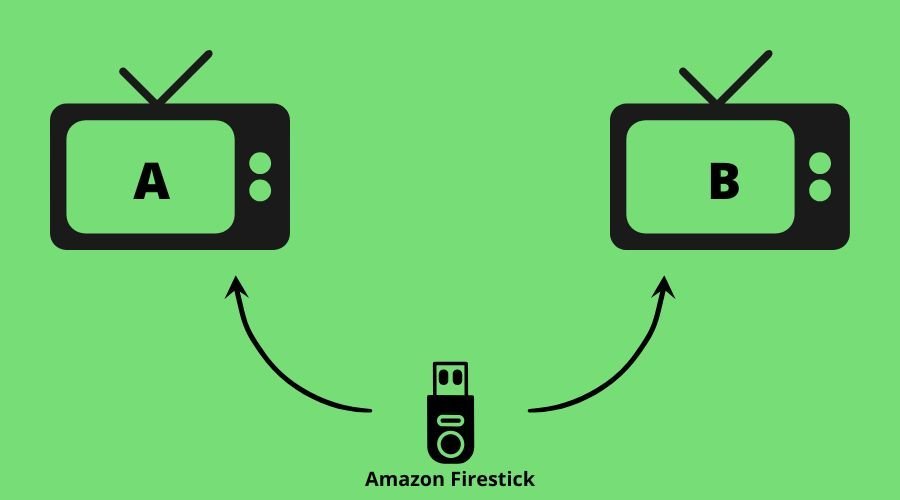 This may be a bummer but there's a good part to it. Your apps and settings will be saved. If you take the stick from a TV and place it in another one, the layout of the homepage will be exactly the same.
The firestick will still need access to Wi-Fi, though. Make sure that there's internet coverage near the other TV.
If you want to use a different firestick for the other TV, you can always buy another one. For a product that can completely transform your dumb TV into a smart one, it's not that expensive.
You can check the latest prices on Amazon (link)
For those of you who were hoping for a workaround or a hack instead of buying a brand new firestick, stick around. I haven't forgotten about you.
How to Use One Firestick for Two Tvs at the Same Time
You can use one firestick to stream on two TVs at the same time with the help of an HDMI splitter. You'll need two long HDMI cables for this to work. Here's how:
Connect the firestick to the HDMI splitter from one side
Connect the two HDMI cables to the other side of the splitter
Connect the other end of each HDMI cable to its respective TV
This workaround will allow you to use the same firestick to stream on two different TVs. Since this isn't an official feature built into the firestick, it comes with some limitations.
1. Limited Distance
HDMI cables can only reach certain distances. The two TVs must be within cable distance for this hack to work.
This sort of eliminates the perk of streaming on two distant devices. Both TVs will end up being too close to each other for the double streaming to be meaningful.
3. Mirror Streaming
If you use a separate firestick for each TV, you'll be able to interact with both TVs separately. For example, you can watch Netflix on TV 1 and HBO on TV 2 without any issue.
But, if you use one Firestick with an HDMI splitter, you're essentially mirroring the displays of both TVs. You'll no longer be able to watch separate shows on each of them.
I personally don't see any use case where this will be a good idea but someone somewhere might find it helpful. Perhaps two siblings sharing the same firestick and watching the same content in their own rooms? Something like in the below video
2. Cable Reliability
HDMI cables can sometimes be as long as 60 feet. However, the cords often suffer from signal degradation when the distance is too much.
If the cable is over 50 feet long, you'll notice stuttering and audio-video desync that may sometimes be unbearable.
Do You Need Two Remotes for Both TVs?
A Firestick remote can only be used with one Firestick at a time. To use the remote you have to pair it with the Firestick and at a time, only one Firestick can be paired.
We have two scenarios here, one where you use one firestick for each TV, and one where you use our workaround to stream on two TVs using a single firestick.
Two Firesticks and Two TVs
If you have two firesticks, then you mostly have two remotes already. It would be more convenient to use each remote for its firestick.
If for whatever reason you're stuck with only one remote, you can still use the same remote for both TVs. It's just going to be a bit of a hassle.
For your remote to recognize your TV for the first time, you have to pair it with your Firestick.
You need to point it at the TV and hold the home button for 10 seconds. A prompt will appear on your screen to let you know that the remote is now recognized by that TV.
If you want to use the same remote for both TVs, you'll have to repeat the pairing process every time you switch between the TVs.
One Firestick and Two TVs
If you use the one Firestick with an HDMI splitter to mirror the stream on two TVs, you'll only need one remote.
Since both TV screens are mirrored, if you control one screen, it will be mirrored on the other screen so you just need one remote that is paired with the shared Firestick.
Final Thoughts
So, do you need a firestick for each TV? The short answer is yes. To have full control over your firestick using the remote, it's better to have an independent firestick for each TV.
Using the same firestick for more than one TV is possible but you won't be able to use more than 1 TV simultaneously. However, you can mirror 2 TVs with one Firestick using an HDMI splitter.
If you don't mind the limitations that come with the workaround, you can go ahead and use it. It won't be harmful in any way.
I hope you find this short article helpful. If you have any questions, you can mention them in the comments below and I or someone from our community will be happy to answer 🙂 Happy streaming.
FAQs
How many firesticks can I have?
There is no limit to how many Firesticks you can have. You can buy as many Firesticks as you have TVs in your home.
Do I Need Multiple Accounts for more than one firestick?
One Amazon account allows you to stream through two devices. You can stream on three devices using the same account if you have an Amazon Prime account.
Additionally, each device can have up to six different profiles under the same account. This is especially useful if you want to limit what children can access through parental control settings.
Can I Use A Firestick On A TV With No HDMI Port?
You can use a firestick without an HDMI port but you'll need an adapter or an HDMI to USB converter.