UPDATED: August 2023 The methods discussed here work as of August 2023. If you find any method that is outdated, please mention in the comments & I will update the guide.
Have you ever sent a follow request to someone (a crush, maybe!) that you have immediately regretted?
Me neither *wink wink*
I once did, and I was frantically searching the internet on how to see sent follow request on Instagram and how to unsent it. I did find a solution, but it was too late.
In this easy-to-follow guide, I'll cover different methods to view your sent follow requests, so you can keep track of those pending connections, manage your follow list, or simply satiate your curiosity.
So, let's dive in and discover the best techniques to help you stay on top of your Instagram follow requests with a friendly and personal touch.
Current Follow Requests on Instagram
Instagram has been changing things around lately. Previously it was very easy to look up your Instagram sent follow requests on both Android & iPhone.
The old option was under Settings > Security > Access data > Current follow requests.
A few months ago I was looking for how to see who I requested to follow on Instagram. All the previous methods were not working in 2023.
The new update has removed most of those options that allowed you to see sent Instagram follow requests.
While researching, I discovered another way how to find sent follow requests on Instagram that I am going to share with you today.
Actually, there are two ways to go about this. One you can do on your phone (both Android & iPhone) and one you can do on your PC.
If this is your first time trying to see the recently sent follow requests on Instagram, don't worry, as I am going to explain things with easy-to-follow images & video tutorials.
So let's get started!
See Sent Follow Request on Instagram Mobile
The first method we are going to discuss can be done on your phone without the need for a PC.
This works on both Android and iPhone. Since I have an iPhone, it's easier for me to post iPhone screenshots, but the method is the same for Android as well.
To see sent follow requests on Instagram in 2023, you have to download your Instagram account information and then open the folder and see your sent follow requests or pending follow requests inside.
Let's explain this step by step.
Step – 1: Open your Insta profile
First, open your Instagram account on your phone and go to your Profile page by clicking your profile picture on the bottom right corner.
If you have multiple Instagram accounts, make sure you are on the right account (to switch accounts, long press on your profile picture)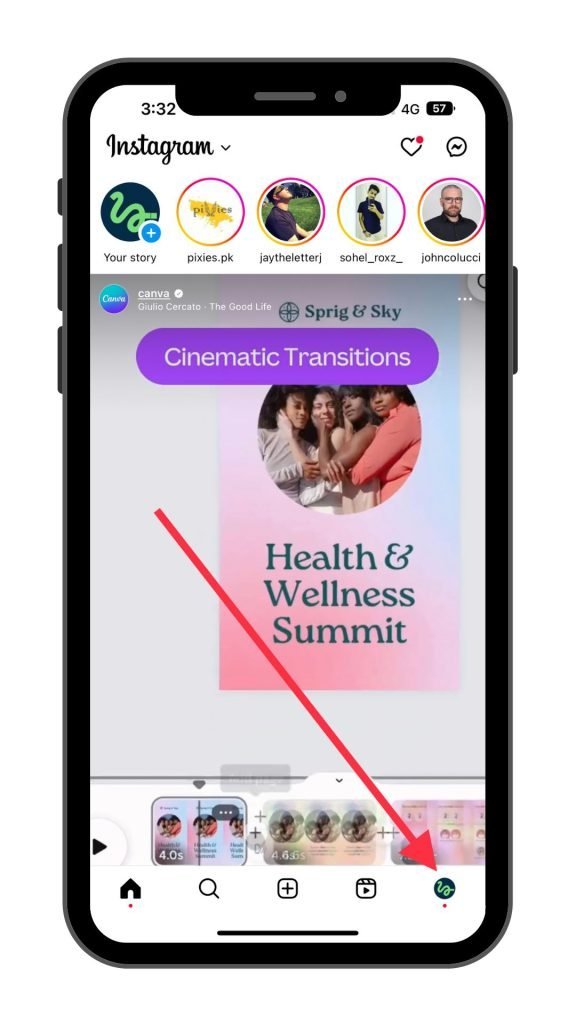 Step – 2: Open the Settings menu
On your Profile page, you will see a hamburger icon on the top right corner (3 lines stacked).
Click on that, and you will open the settings menu.
Step – 3: Open 'Your Activity'
On the Settings page, you will see some options. Tap on "Your activity" to open the further settings menu.
This is where you will see a history of all your activities on Instagram, including what you purchased, your archived content, recent searches, and things you have shared, etc.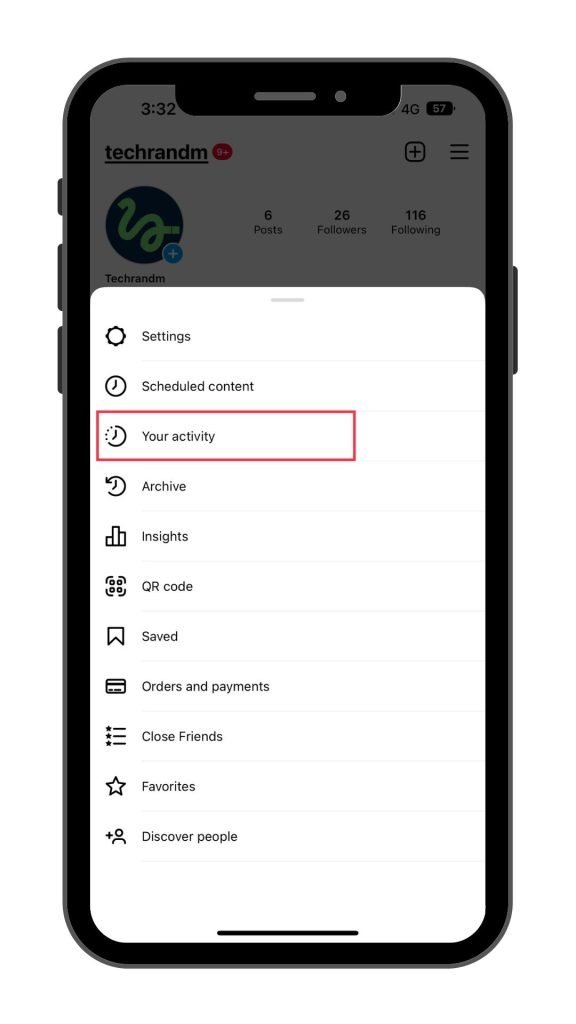 Step – 4: Go to 'Download your information'
On Your activity page, scroll all the way down to the bottom, and you will see a button that says "Download your information"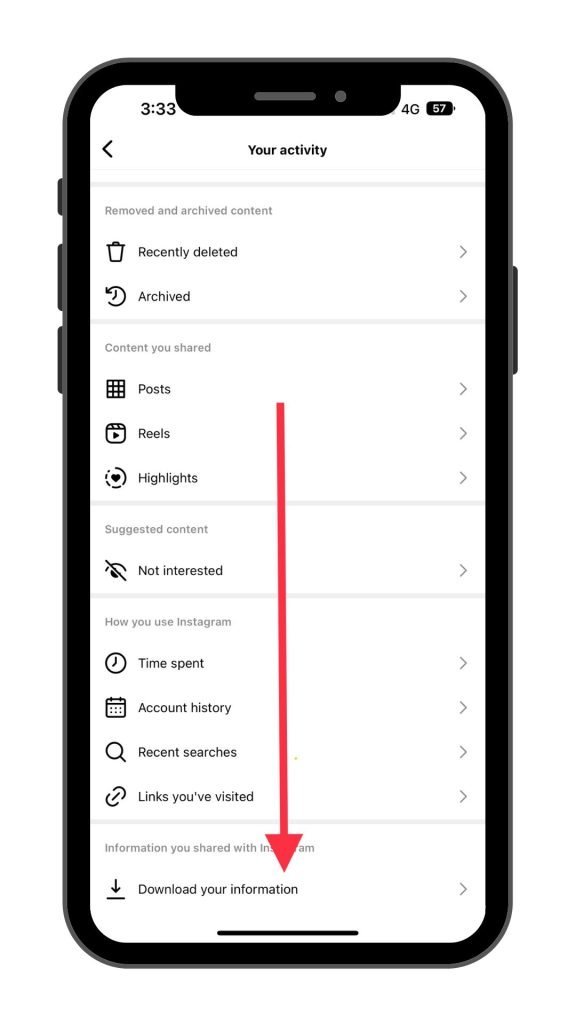 This button actually lets you export all your Information that Instagram has about you, including;
Posts and stories you have shared.
Old messages (sometimes even containing deleted messages)
Likes, comments & other interactions.
People you followed, and people following you.
Pending and sent follow requests
In short, everything you ever did on Instagram will be downloaded to your phone.
Step – 5: Click on 'Request a download'
On the next page, you will find a button that says, "Request a download". Tap on that to move to the next section.
Next, you are going to select if you want to download a complete copy of your information or only want some parts of it.
Instagram asks this because it takes a lot of computational power on their part to prepare your file so less information means less cost to them.
I would recommend downloading a Complete copy because then you will get to see all other information as well that you might be interested in (deleted messages with your old flame, maybe?)
Step -6: Select your download options
On the next screen, fill out a few options, including:
Notify: input your email address here (it can be any email address and not necessarily your Instagram email)
Format: Pick HTML, as it is easier to view in the browser.
Media quality: Select the quality of images and videos.
Date range: This is important. Either select "all time" or a more recent period like "Last 3 months"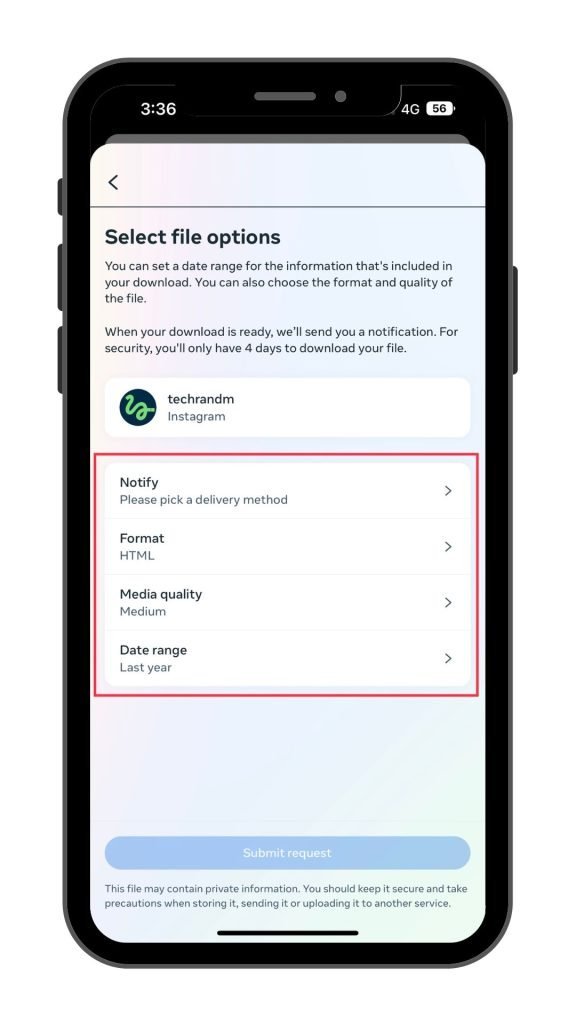 Once you select all the options, click on "Submit request" and you will see a pending download on the screen.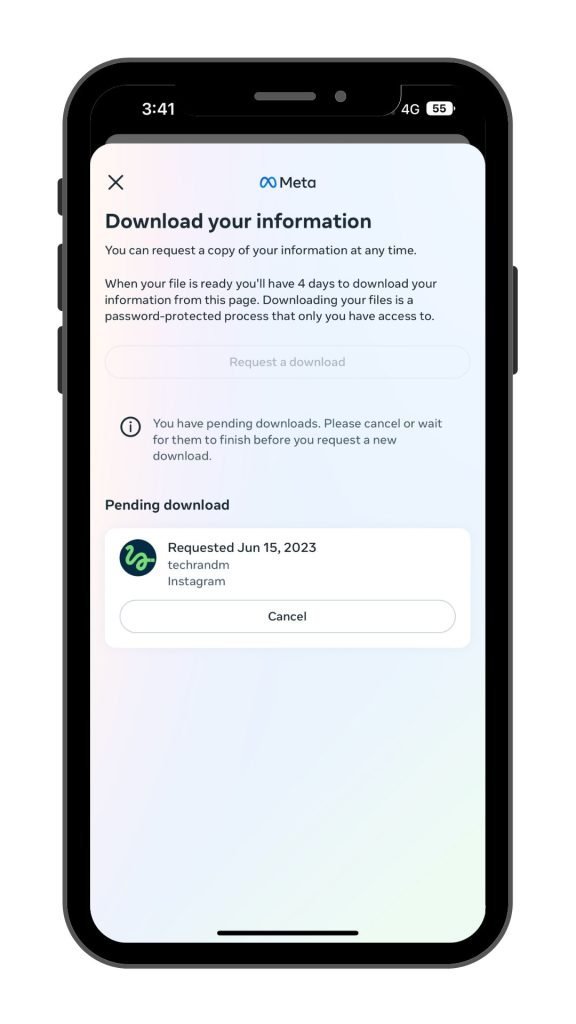 Instagram will take some time to prepare your file, so you will have to be patient. If you have a lot of messages, photos, and videos, it can take some time.
In my case, it took about 30 minutes.
Step – 7: Download your file to your phone
Now it's time to download your file. Once your file is ready, you will get an e-mail notification about it.
You can navigate to the same location following the above steps and see the download button.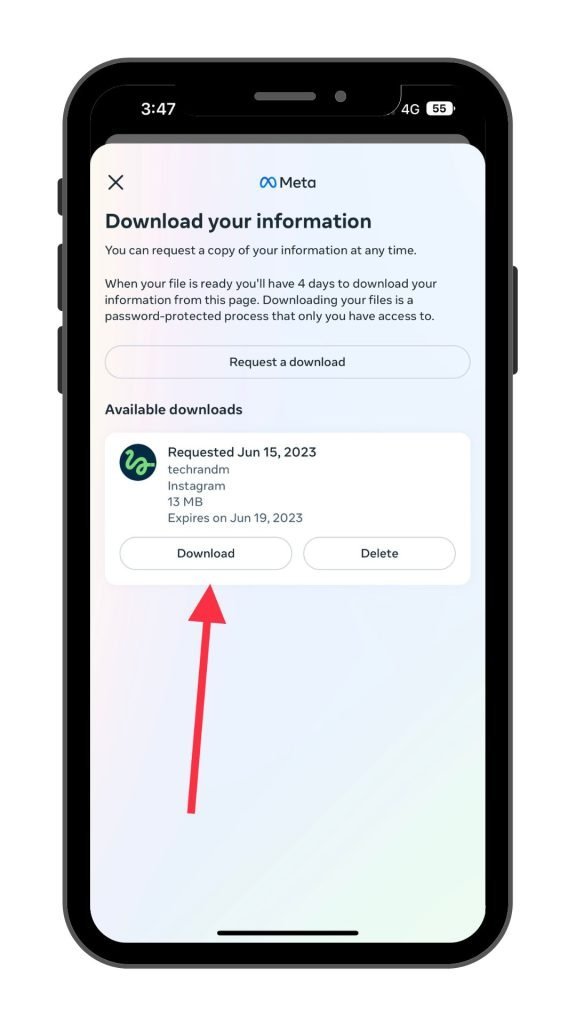 When you click on the "Download" button, it will open your browser and ask for your Instagram password.
After you input your password, your download will start.
Step – 8: Open the downloaded file
Next, you have to find your downloaded file in your mobile browser.
If you are on Android, you can go to your file manager and see the zip file. If you are on iPhone, you can go to Files > Downloads and find your file there.
Once you locate your file, tap to unzip it, and you will get a normal folder with all your Instagram content inside.
Step -9: Find the correct folder
Inside the unzipped folder, you will find numerous sub-folders that contain all of your account information.
You can see contacts, content, events, photos, etc, but the file we are looking for is "followers_and_following". Open it.
Inside it you will see html files named as "pending_follow_requests". Open it and see all your follow requests.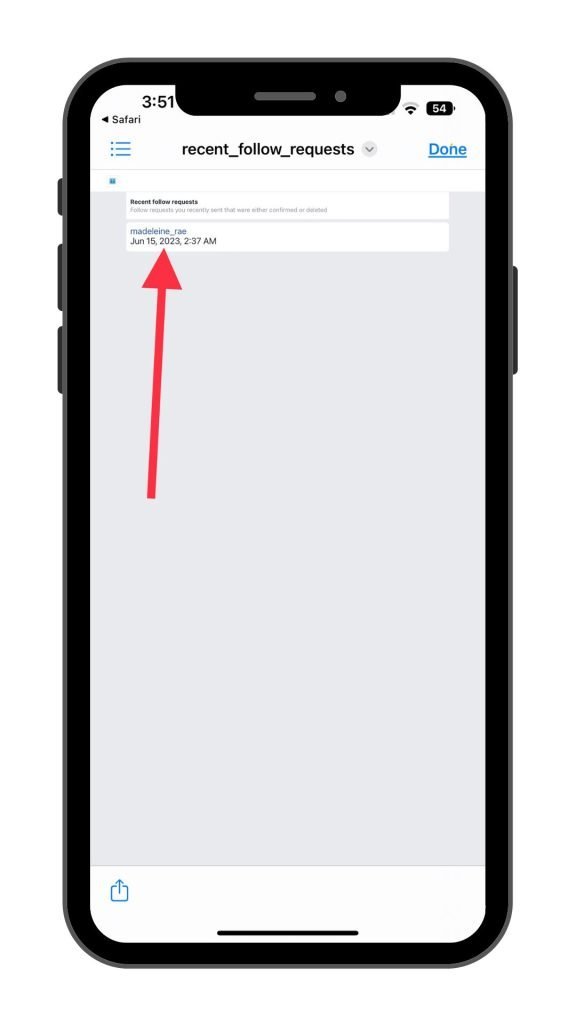 In my case, I have one pending follow requests (that I sent for the purpose of demonstration for this article).
You can even click on the username of the person and cancel the sent follow request if you want to.
If you are more of a video person, watch the video below to follow the instructions.
See Sent Follow Request on Instagram Desktop PC
While most people use Instagram on their phones, the process of downloading information and seeing your sent follow requests is a lot easier on your PC.
So if you are near your computer, I would recommend doing it there because you can then easily open the downloaded files and explore them.
The process is the same, but the options are a little bit differently arranged so let's explore how to check sent requests on Instagram on your PC.
Step #1: Go to Your Instagram Account on desktop
Open Chrome or some other web browser on your desktop PC. Head to Instagram.com
If you are not already signed in, use your account credentials to sign in and go to your Profile page by clicking on your profile picture.
Step #2: Head to Instagram Settings
Click the Hamburger icon on the bottom left corner to open your Instagram settings menu.
Step #3: Select "Your activity"
Select the "Your activity" option from the menu on the screen, just like we did on our mobile.
This will open a new page with a few more options to explore things like:
Account history
Your interactions
Photos & videos you have shared
Download your information
We are interested in the last option, "Download your information". Click on it.
Step #4: Request Instagram Data Download
Once you are on the new tab that says "Get a copy of your information", input your email address.
This can be any email address and not necessarily your Instagram email. Select HTML from the options below the email bar and click "Next".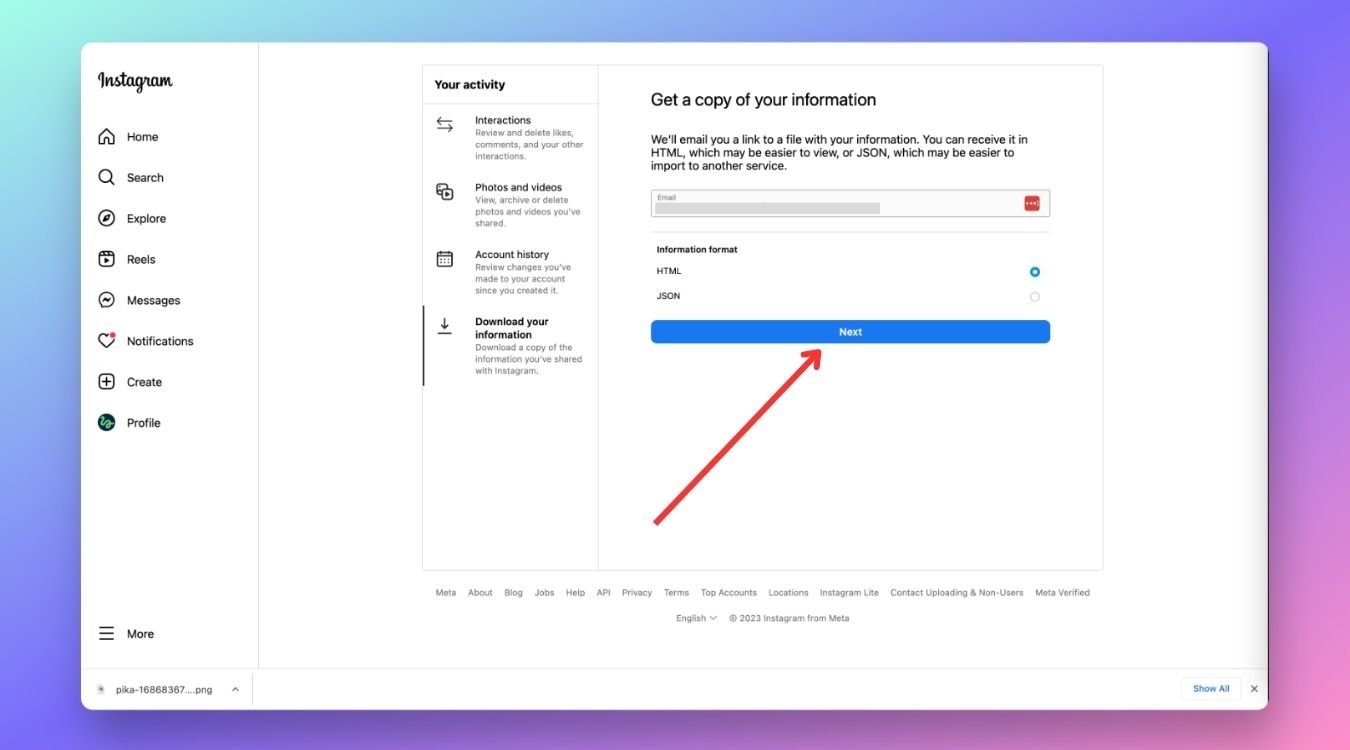 On the next page, you will be informed that your file is being created, and once it is ready, it will be emailed to you.
It also says that the process "may" take 14 days, but in reality, it will take a few minutes to an hour, depending on how large your data is.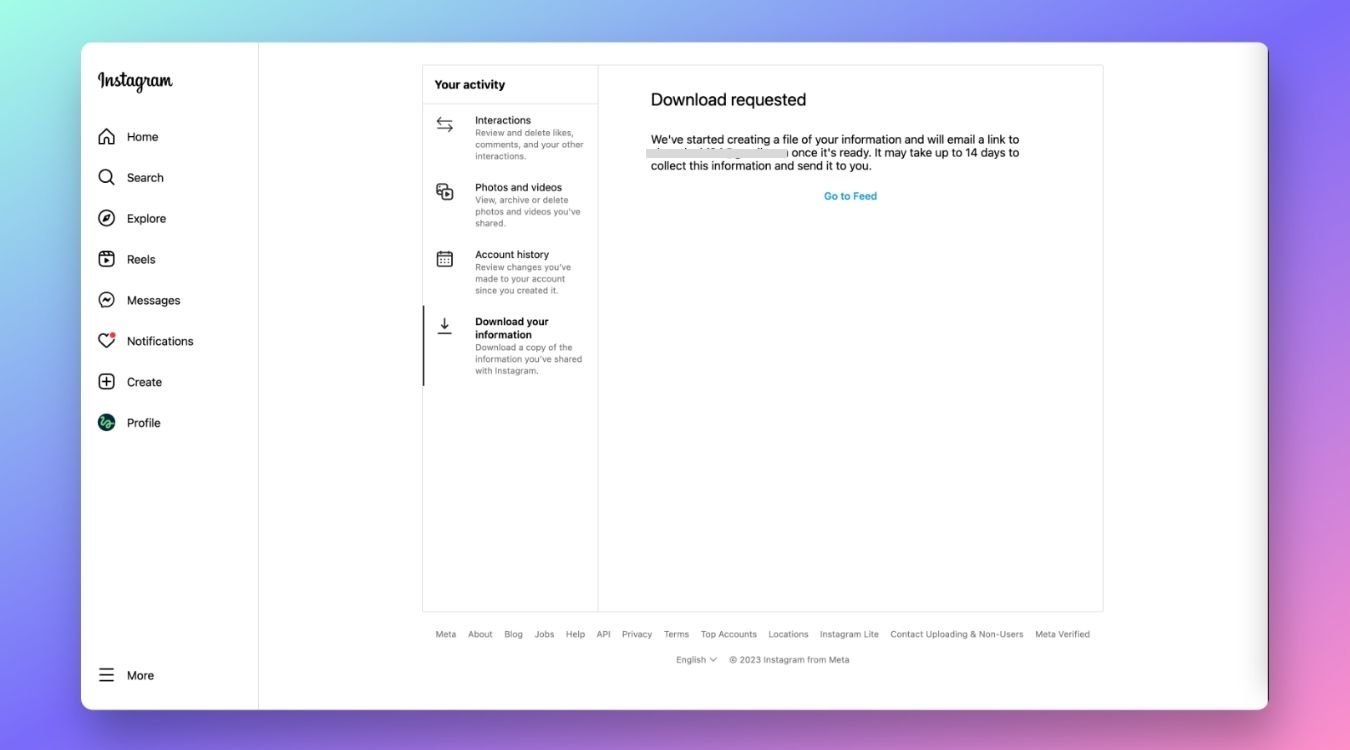 Step #5: Follow the Download Link
An Instagram data download link will be sent to your provided email address once your file is ready.
Open the email and choose the "Download Information" option.
Step #6: Complete the Download Process
You will now be taken back to your Instagram account. Click the "Download Information" option on the screen.
If it asks for your password, provide it, and your download will begin. Save the zip file to your preferred destination and unzip it.
Step #7: Go to the Followers Folder
Once the file is downloaded and unzipped, open the folder, and you will see a number of different sub-folders that contain all your account information.
Select the "followers_and_following" folder.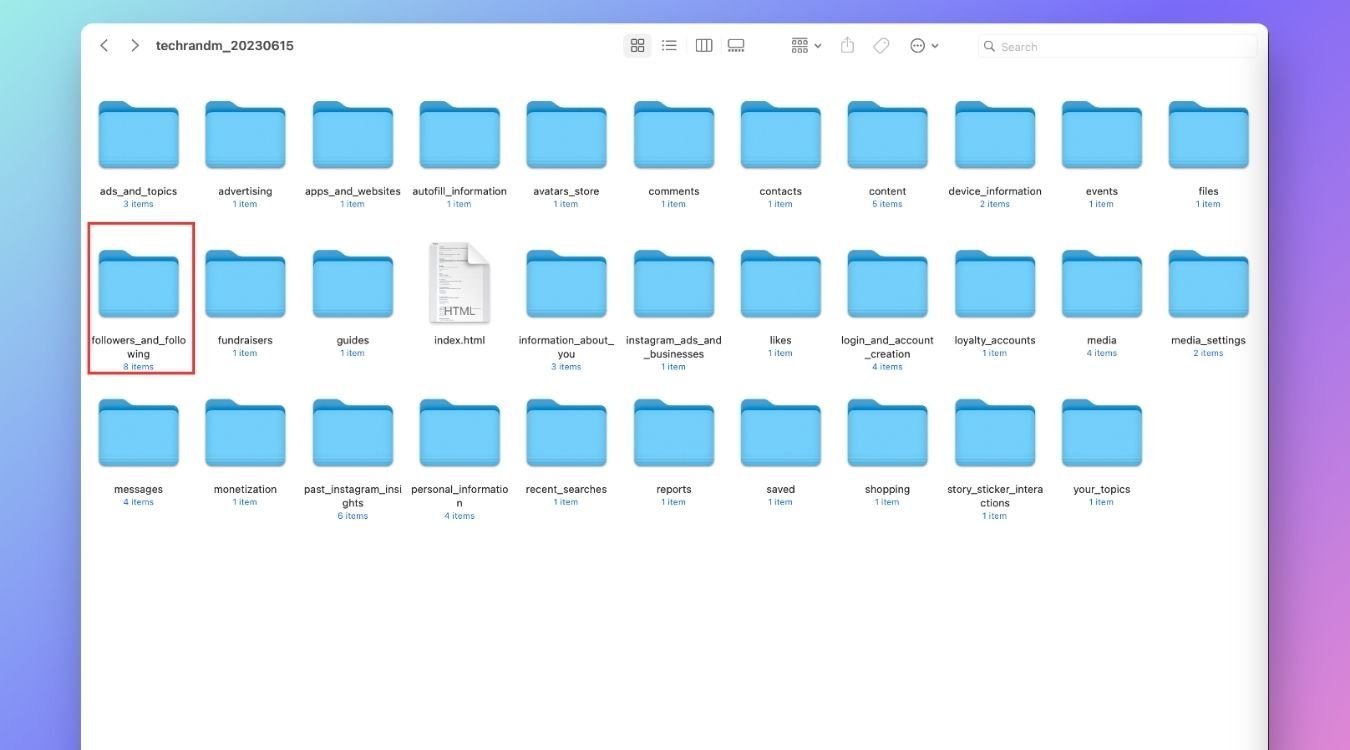 Step #8: Find the Follow Requests
Once the folder is opened, find and click the "pending_follow_requests.html" file to open it.
Here you will see the usernames of all the accounts you have sent follow requests to in the past which haven't been approved.
If you don't see that particular file in your download folder, that means you do not have any pending sent requests and you have a clean slate.
That's all for this article.
Why Instagram makes it so difficult?
Now that you have successfully downloaded your account information to view your sent follow requests, you might be wondering why they have made it difficult how to see sent requests on Instagram.
While I don't have any definitive answer, one guess is that people used to send follow requests and then cancel them a lot, and some tools might have automated this process as well.
Instagram doesn't like automated actions that mimic actual users, so they are removing features that are not used that frequently.
However, this isn't one of those infrequently used feature. This was the very useful thing that they took away.
But hey, it's a free platform, so we can't complain much. Right? But we can keep ourselves up to date with the changes.
Instagram is introducing a lot of new features that makes it easy for people to collaborate, follow each other and still feel safe on the app and I think that is important.
If you want to up your Instagram game, increase your following and establish yourself as an influencer, I would highly recommend reading One Million Followers by Branden Kane.
Editor's Select
One Million Followers: How I Built a Massive Social Following in 30 Days(Updated Edition)
Unlock mass social media exposure with Brendan Kane's "One Million Followers."

Build an authentic, diverse online following in 30 days or less.

Master engaging content creation to stand out in the digital world.

Develop a multimedia brand across platforms like Facebook, Instagram, and YouTube.

Gain insights from in-depth interviews with celebrities, influencers, and marketing experts.

Learn from industry leaders like the co-founder of Shazam and the CEO of 9GAG.

Benefit from the expertise of the man behind A-listers' online platforms and top brands' digital strategies.

Become a social media leader with this ultimate guide to brand success.

Outshine competitors with top tools and strategies for influencer status.
Conclusion – How To See Sent Follow Request On Instagram
In this write-up, we have taken you through some simple methods you can use to see all your sent follow requests on your Instagram account.
We have covered methods applicable to all your devices, including iPhones, Android phones, and PC.
If you follow the steps above, you will learn how to see pending follow requests on Instagram and also cancel those pending requests if you want to.
Hopefully, this method will make it easier for you to keep track of your following activity on Instagram, and you won't find any of your choices embarrassing in the future.